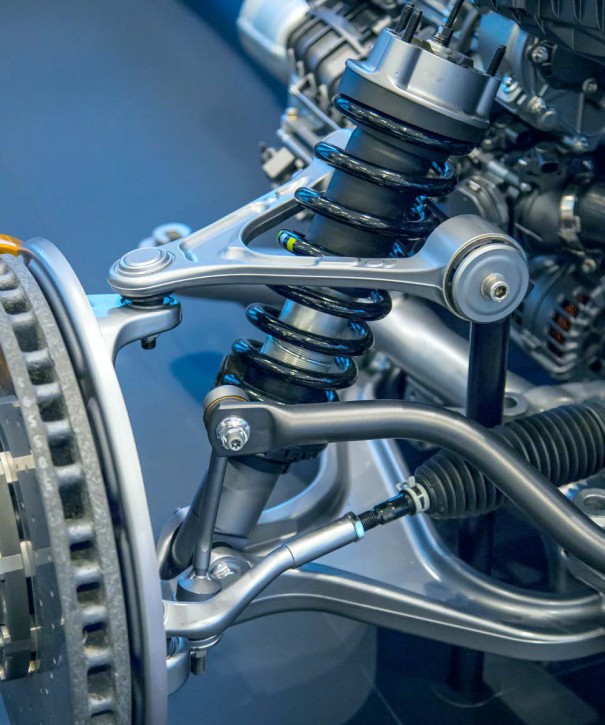 With its property profile, the bainitic chassis steel CH-W® is particularly suitable for complex chassis components such as single-skin control arm, axle beams, bumpers and similarly challenging components.
Hot-rolled chassis steel
­
­
Steel grade
­
Reference grade
VDA 239-100
Reference grade
DIN EN 10338,
DIN EN10346
­
Thickness1
from _ to in mm
­
Width1
from _ to in mm
CH-W® 660Y760T-UC
HR660Y760T-CP
HDT760C
1.80 – 5.00
940 – 1,360
CH-W® 660Y760T+Z
HR660Y760T-CP-GI
HDT760C+Z
1.80 – 3.00
970 – 1,330
CH-W® 700Y950T-UC
–
–
2.00 – 4.00
900 – 1,400
1. Not all thickness and width combinations possible.
Mechanical properties
­
­
Steel grade
Yield
strength
Rp0.2 [MPa]
Tensile
strength
Rm [MPa]
­
Elongation
A [%] min.
­
­
A80 [%] min.
Hole
expansion
Thickness [mm]
­
­
λ [%] min.
CH-W® 660Y760T
660 – 820
760 – 960
14
12
1.80 – 4.20
60
4.21 – 5.00
50
Test direction in rolling direction.
Notes on applications and processing
Material characteristics
Microstructure
Due to its selected chemical composition and the special rolling process, the bainitic chassis steel has a very fine microstructure. The desired properties of the steel are created by the specific microstructure with nanoprecipitations. The low Si content guarantees a flawless surface.
Microstructure of CH-W®
Forming
Hot-rolled bainitic chassis steel is often used in the vehicle chassis area. It offers high resistance to local necking thanks to favorable work hardening behavior. Due to its extremely fine and homogeneous microstructure, CH-W® steel also exhibit guaranteed hole expansion properties of at least 60% to ISO 16630. Furthermore bainitic chassis steel provides a favorable bending behavior, bending angles of well over 130° (to VDA 238-100) are typically possible.
Joining
Bainitic chassis steel is very suitable for welding both same-grade joints and hybrid joints with other common steel grades. The precondition is welding parameters matched to the material. Test results in accordance with SEP 1220-x are available and attest CH-W® good ability to join in any joining process. Of particular note are the excellent results of the typically even and fine-flaked MAG welding seams without cracking tendency or significant hardening. Consequently, the high demands placed on the fatigue strength of the seams are fulfilled.
Fatigue strength
The bainitic chassis steel CH-W® 660Y760T displays a comparably good fatigue strength like standard chassis grades.
Stress-strain curve of CH-W® 660Y760T compared to HR660Y760T-CP and S700MC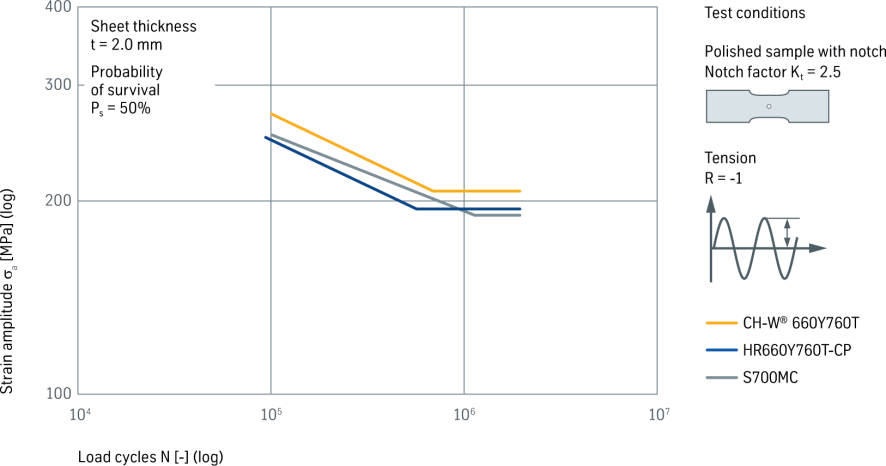 In service: new chassis steel for high flexibility and production reliability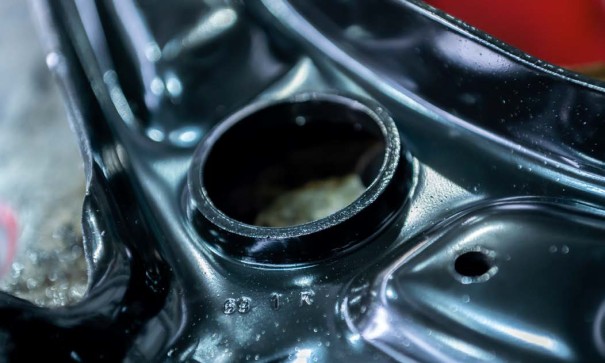 With its new CH-W® 660Y760T product, thyssenkrupp Steel is offering the automotive industry a high-strength multiphase steel ideally suited for meeting highly demanding requirements, especially in the chassis area. The cooperation partner Gestamp, an internationally renowned supplier to the automotive and commercial vehicle industry, is the first customer to successfully use the material for producing complex chassis parts.
There is hardly any other area of production today where the formability of materials plays such an important role as in the chassis. The increasingly complex components used in automotive chassis require not only very robust, but also high-strength steels with good formability. Tight bending radii or good hole expansion properties are just two examples among many showing how the automotive industry is placing increasing demands on modern chassis steel. thyssenkrupp Steel developed hot-rolled CH-W® 660Y760T chassis steel in close cooperation with its customer Gestamp.
The new grade guarantees a hole expansion of at least 60 percent and is ideal for complex, cold-formed chassis components. The targeted coordination of chemical analysis and production in our modern hot strip mills results in a particularly homogeneous microstructure, with a positive effect on processing in the customer's stamping shop.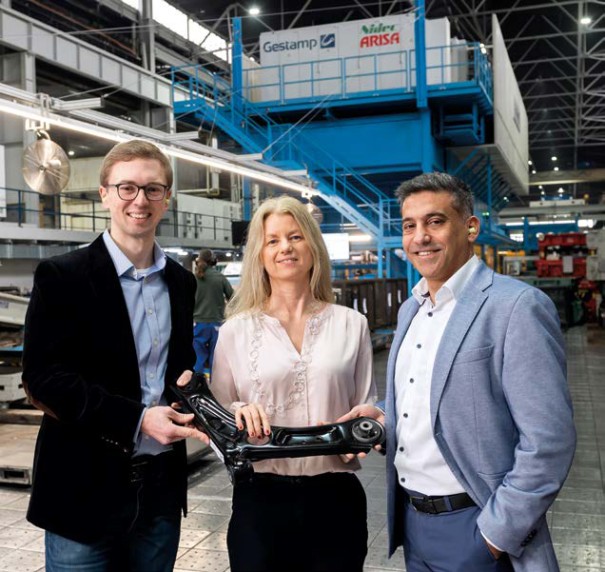 Many advantages and a robust process
Several trial runs in a production die showed that CH- W® 660Y760T can reliably handle even critical forming stages as well as accommodating large openings and the tightest of radii. Both in component design and during subsequent processing by the customer: the hot strip in the 800 strength class promises the greatest possible flexibility with guaranteed high production reliability. Also an advantage: The material meets the requirements of VDA grade HR660Y760T-CP and DIN EN grade HDT760C, and offers significant reserves in elongation at break compared with established complex-phase steels of this class.
After a final check of the fatigue endurance properties on the real component, the material was approved by Gestamp and is now being used in various chassis components made by a well-known German OEM.