Our thyssenkrupp Steel Apps at a glance
General inquiry
Contact
thyssenkrupp Steel Europe AG
Kaiser-Wilhelm-Strasse 100
47166 Duisburg, Germany
+49 (0)203 52-0
Follow us on
Steel AR - the Duisburg site in your pocket
Let "Steel AR" lead you to the Duisburg site of thyssenkrupp Steel. You cannot only discover more than 50 Steel Points of Interest there, but thanks to Augmented Reality you will also receive additional information about the respective building or location.
All you have to do is to point the camera at the respective point in the App in the AR mode, and you are ready to go.
By the way: Even if you are not in Duisburg, you can still get all the information and pictures via the App on a map and a list. This way, interested locals, guests and visitors can find out what is going on at thyssenkrupp Steel in Duisburg, one of the world's leading steel producers. And that is quite a lot. We are an innovation driver for the development of high-tech steel products for applications, like, for instance, modern automobile construction and e-mobility.
Available in the following App-Stores:
Packaging Steel App with new, interactive functions
Customers from the packaging steel industry now can receive relevant information even easier, in digital form via their smartphone: With the 2.0 update, the thyssenkrupp Packaging Steel App now has new interactive functions which bring a significant added value to the users. The "Multi-Calculator" enables numerous useful conversions for coil and sheet material. The route navigation to the Andernach location is also new. Complicated searching and entering of the company address with a GPS device is no longer required. Particularly important for packaging manufacturers: With the Packaging Steel App 2.0, relevant certificates regarding tinplate can now be found directly on the dashboard and can be accessed more quickly.

Available in following App-Stores:
tk HO App – everything under control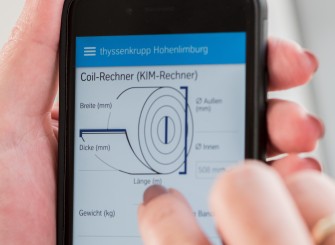 The upgraded "tk HO" app gives you a seam-less overview of all your orders for precidur®, the precision steel from thyssenkrupp Hohenlimburg.
thyssenkrupp Hohenlimburg GmbH is continuously expanding its communications channels with its customers. Customers can already communicate with the company via electronic data interchange (EDI) or through close horizontal business process integration by means of ERP systems (Enterprise Resource Planning). Now, Against the background of "Industry 4.0" the mobility aspect is also being strengthened: communication and interaction with thyssenkrupp's precision steel strip specialists via smartphone app. The "tk HO app" is available on all common platforms (iOS and Android). It is divided into a public section and a protected section for customers which can be accessed after authentication to retrieve and use business process data directly.
Available in following App-Stores: