Apps
Packaging Steel App with new, interactive functions
Customers from the packaging steel industry now can receive relevant information even easier, in digital form via their smartphone: With the 2.0 update, the thyssenkrupp Packaging Steel App now has new interactive functions which bring a significant added value to the users. The "Multi-Calculator" enables numerous useful conversions for coil and sheet material. The route navigation to the Andernach location is also new. Complicated searching and entering of the company address with a GPS device is no longer required. Particularly important for packaging manufacturers: With the Packaging Steel App 2.0, relevant certificates regarding tinplate can now be found directly on the dashboard and can be accessed more quickly.

Available in following App-Stores:
Hohenlimburger Mittelband goes digital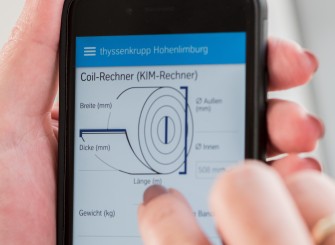 thyssenkrupp Hohenlimburg GmbH is expanding its communications channels with its customers. Customers can already communicate with the company via electronic data interchange (EDI) or through close horizontal business process integration by means of ERP systems (Enterprise Resource Planning). Now, against the background of "Industry 4.0" the mobility aspect is being strengthened: communication and interaction with thyssenkrupp's precision steel strip specialists via smartphone app. The "tk HO app" is available on all common platforms (iOS, Android and Windows Phone). It is divided into a public section and a protected section for customers which can be accessed after authentication to retrieve and use business process data directly.

Available in following App-Stores:
The free Autobody LCA app provides a sound basis for decisions for sustainable mobility
According to a study of the University of California in Santa Barbara, USA, lightweight steels are far ahead with regard to climate protection. We provide the results for you as an intuitive iPad app. This enables a holistic view on the entire life cycle assessment of a vehicle.
Aluminum versus high-strength steels: Currently, the average CO2 emission during the production of one ton of aluminum is more than five times the one of steel. Test for yourself how far a car must go to compensate this on the road.