Trade press, 2013-10-30, 02:12 pm
Blechexpo 2013 in Stuttgart
Products and services: ThyssenKrupp Steel Europe offers diversity from a single source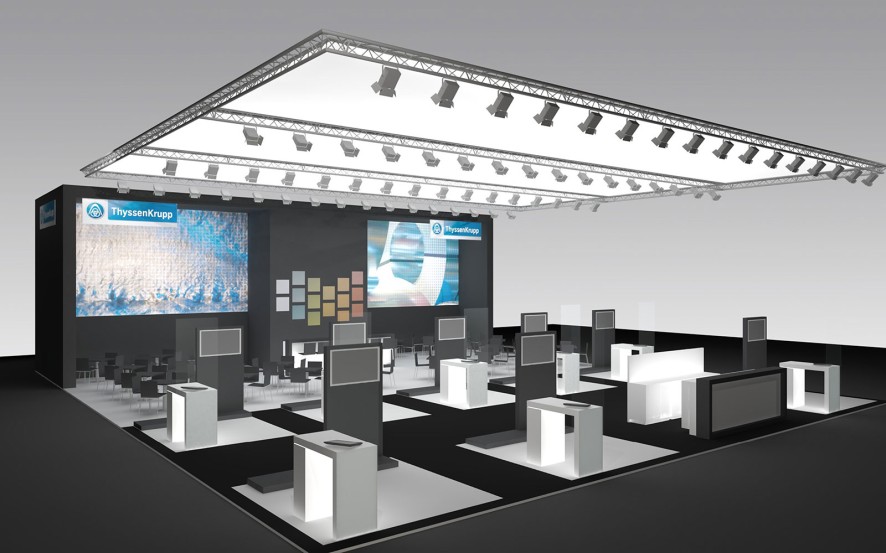 At this year's Blechexpo exhibition in Stuttgart ThyssenKrupp Steel Europe is using a new booth design to showcase its diverse solutions and services for high-quality flat carbon steel. Interactivity, industry focus and open communication are the key words for the display at booth 5307 in hall 5 from November 5-8.
Diversity from a single source and at a glance – ThyssenKrupp Steel Europe is displaying its innovative solutions in Stuttgart using a new and enhanced booth design. The Duisburg-based flat carbon steel supplier is combining its entire steel expertise under one roof with islands dedicated to specific industries: appliances, sheet metal working, energy, packaging, machinery/equipment, automotive, construction, and trucks/special vehicles. Interactive exhibits and open communication are the watchwords for the new booth design.
Efficient automotive weight reduction
For example ThyssenKrupp Steel Europe is demonstrating its automotive expertise with the aid of a Perspex vehicle silhouette. Using it the company will present materials and processing technologies for cost-efficient weight reduction. For crash-relevant parts such as the B-pillar ThyssenKrupp Steel Europe will be showing off the ultrahigh-strength dual-phase steel DP-K® 700Y980T. It sets new standards for forming and hole expansion in its strength class.

Steel also offers great potential for electric vehicles, as shown by ThyssenKrupp Steel Europe with the PowerCore® SunCruiser. This is a solar car that recently left the research laboratory at Bochum University. The high-tech vehicle, which has three seats and a trunk, is unique in that for the first time it features non-oriented electrical steel from the Duisburg-based company. Thanks to the only 0.30 millimeter thick PowerCore® material, core losses are reduced and the sun's energy can be utilized very efficiently.
Magnesium provides better sound
Diversity in the ThyssenKrupp Steel Europe group also includes the lightweight material magnesium. It is not only useful in the auto industry; it can also enhance listening pleasure. The British turntable manufacturer Rega used the lightweight material from MgF Magnesium Flachprodukte for the first time in its RP8 system, which can be seen at Blechexpo 2013. Incorporated in the brace between tonearm and platter bearing, magnesium from the ThyssenKrupp Steel Europe subsidiary reduces vibrations for an improved sound experience.
Innovation processes significantly shortened
This wide range of high-quality, customer-focused products requires expertise in research and development as well as comprehensive technical support. For this reason ThyssenKrupp Steel Europe has now combined sales and innovation under the central management of Dr. Heribert Fischer. This restructuring strengthens the company's focus on specific industries and customers: It puts industry sales on a broader base, now including non-oriented electrical steel of the kind used in the drive system of the PowerCore® SunCruiser as well as products from the COLOR unit, namely organic-coated flat steel products such as PLADUR® and Reflections®. This gives ThyssenKrupp Steel Europe greater market transparency and better options in niche markets. At the same time the company is putting its faith in greater integration with the strong technology and innovation capabilities of its sales departments. The aim is to develop further custom products for new trends and shorten innovation processes significantly.
Anyone interested can learn more about the diverse products and services of ThyssenKrupp Steel Europe at the Blechexpo exhibition taking place at Stuttgart Exhibition Center from November 5-8 (hall 5, booth 5307).
The Steel Europe business area is focused on the attractive market for premium carbon steel flat products, where it is one of the world's technology leaders. It employs around 27,800 people and generated sales of almost €11 billion in fiscal 2011/2012. Its capabilities range from intelligent material solutions and product-specific processing to comprehensive service. It serves a broad spectrum of steel-using sectors, including the automotive, shipbuilding, engineering, energy, construction, packaging and appliance industries.
Information for journalists
Link to photos and captions here.