Facade design with pladur® Wrinkle: Discover here some of our projects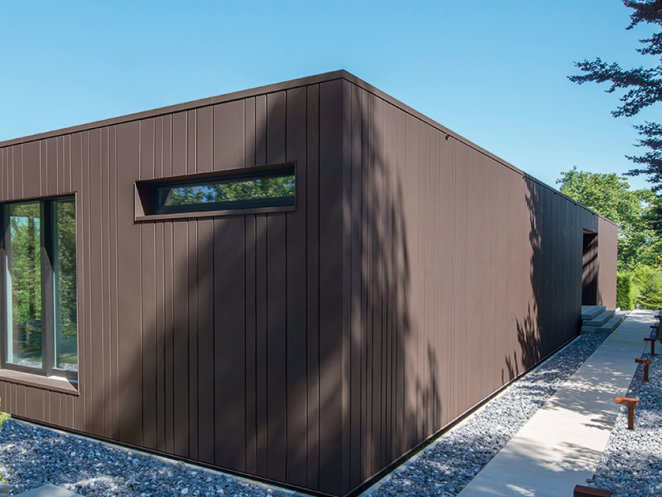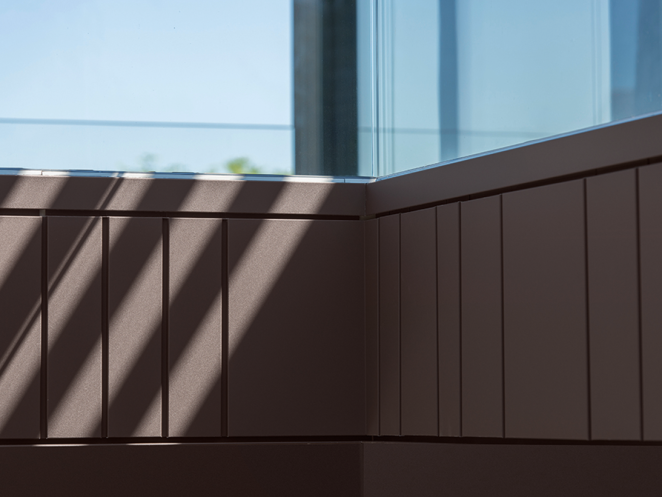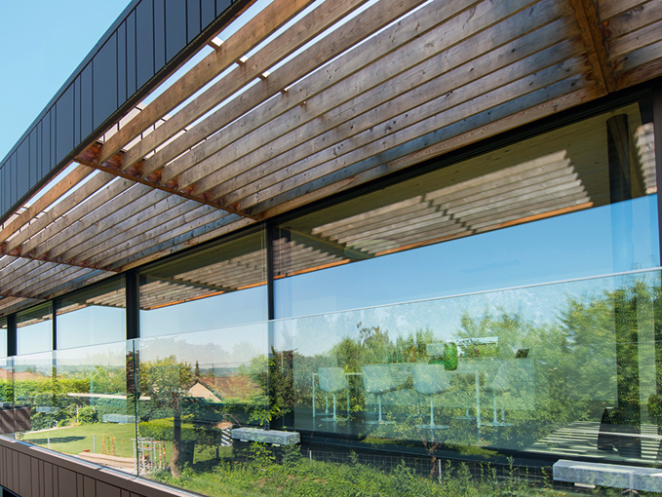 Functionality year in, year out with pladur® Wrinkle
Quality that lasts
pladur® Wrinkle is made from readily formable steel, while our zinc-magnesium coating ZM Ecoprotect® provides outstanding corrosion protection. The material is organic coil-coated in several passes. As a result pladur® Wrinkle is highly resistant to wear, UV radiation, temperature, and dirt.
pladur® Wrinkle is available in the following colors:
If you are interested in product samples and/or color cards, please contact us.
Whether facade or interior design − pladur® Wrinkle is versatile and finely textured
pladur® Wrinkle offers architects and building owners numerous advantages and special features in terms of both appearance and performance. Here's a selection:
Low-reflection textured surface
The textured surface of pladur® Wrinkle is characterized by a very low level of gloss. So regardless of viewing angle, there are virtually no reflections and the colors retain their intensity.
High wear resistance
The thicker coating offers good weathering resistance. The textured surface is resistant to denting and less liable to contamination than comparable matt, smooth, polyester coatings. In practical use, scratch resistance is high compared with polyester.
Good processing qualities
pladur® Wrinkle is suitable for bending, drawing, press braking, profiling, stamping, and roll forming, making it the ideal material for facades and interior wall/ceiling panels.
Eco-friendly from A to Z
To meet our responsibilities towards the environment we take account of the entire life cycle of a product. We ensure the materials we select are climate- and resource-friendly and apply the same strict standards to our production processes. Our pladur® products comply with the relevant REACH regulations. The organic coatings are completely free of chromates and CMR substances.
twostar**: pladur® Wrinkle features selected characteristics
The quality class that impresses with the highest values in nearly all respects
pladur® is available in three quality classes making it the perfect solution for all types of multistory building – be it a day-care center for children or a hospital, a luxury hotel or a residential/office complex. The most important criteria for classification are UV resistance, resistance to mechanical stress and the duration of protection against corrosion, as well as the material and visual properties of the surface texture. twostar** means that we offer pladur® Wrinkle in a higher category featuring improved performance characteristics.
Technical information
Delivery forms and
sizes*
THICKNESS
from_to in mm
WIDTH
from_to in mm
LENGHTH
from_to in mm
Strip
0.40−1.25
600−1,450
Sheet
0.40−1.25
600−1,450
450−6,000
* Special/project colors from 500 m2. Use of panels from same batch recommended. Further sizes on request.
Properties
| Gloss | Generally 1 to 2 gloss units |
| --- | --- |
| Corrosion resistance/ length of protection | RC3/C3H to C4L |
| Fire resistance | A2 (to DIN 4102/in accordance with approval Z-56.426-65) |
| RUV class | RUV 4 |
Approvals and certificates