Our commitment focuses on three main areas: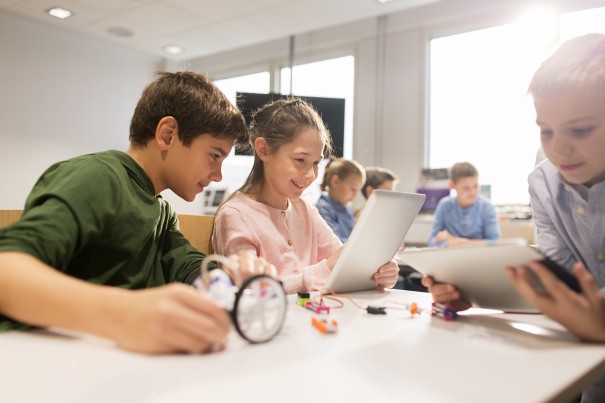 Facilitate access to education – improve opportunities
We are committed to projects that facilitate access to education and equal participation in public life. The corona pandemic has even exacerbated social differences: The German education system is tied to social class. Together with partners like the TalentMetropole Ruhr foundation or 'Bürgerstiftung Duisburg AG', we organize projects to counteract this problem. We have been a sponsor of the regional Jugend forscht competition for 40 years. Arousing curiosity and the spirit of research will continue to be in our interest as a technology company.
Project examples
Level up your skills – vocational orientation training of 'Bürgerstiftung Duisburg'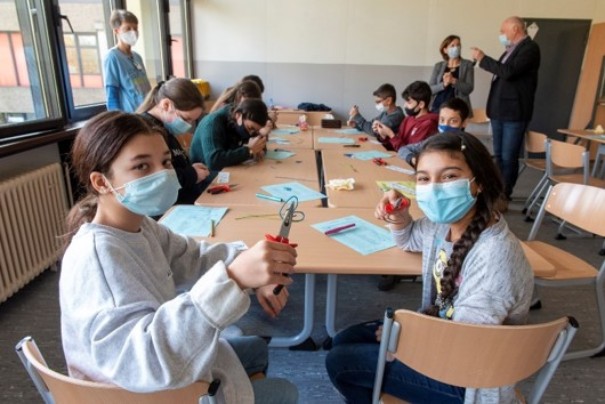 7th grade students can try out and discover their own talents with the new 'Level up your skills' project. The vocational orientation training starts early to give motivation and self-confidence for their way into working life. Throwing roof tiles, bandaging arms or assembling a cube are seldom tasks in everyday school life. That's why the girls and boys can explore various vocational fields with lots of hands-on exercises and under the friendly guidance of experts from the Minden-Lübbecke Technical Center. With this program, we give Duisburg schoolchildren orientation and the opportunity to discover what they are made of. So that they have the confidence to take their future into their own hands.
Education bus of 'Bürgerstiftung' – encouraging children's fascination with technology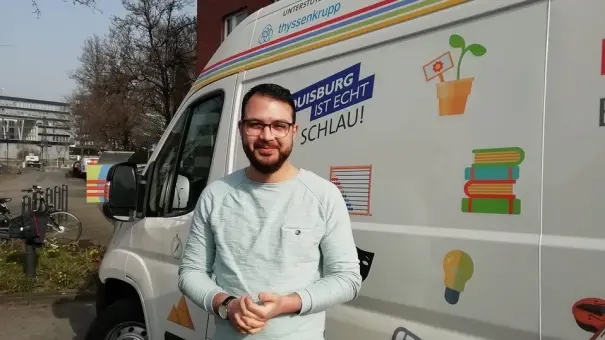 Encourage curiosity, fascination with technology and interest in STEM fields, and provide opportunities to participate in public life and the world of work through education. That is our declared goal. The education bus of 'Bürgerstiftung' makes this possible for even the youngest children. Equipped with research kits, for example on the subject of magnetism or recycling, elementary school children can explore and discover. The education bus can be booked by Duisburg-based elementary schools or all-day schools.
'Jugend forscht' and students experiment – research has always been important to us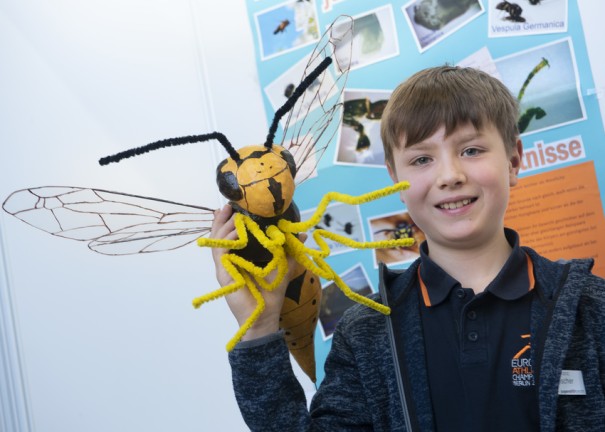 Year after year, the participants have come up with innovative ideas for stunning solutions. In 2021, the "Jugend forscht" participants presented 19 projects to an expert jury in an all-digital contest for the firsttime. Next year, our company will host the young researchers contest for the 40th time. In this anniversary contest, a large number of pupils and apprentices from the Ruhr area will again work on scientific issues in categories like biology, chemistry or mathematics they set themselves and for which no solutions have been found so far. There are almost no limits to imagination, which is also reflected in the unabated motivation to participate."
Digitization in schools – empowering teachers and students via the Talent Metropole Ruhr foundation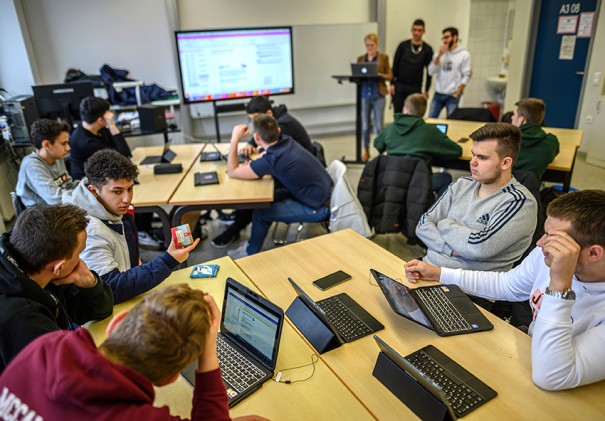 How can we make digitization (more) understandable for young people and students - with all its opportunities and risks? The TalentMetropole Ruhr Foundation addresses this question with various projects. We support two of them as a partner:
The project '#netzTalente Ruhr' strenghtens students' competencies and encourages them to stand actively up to hate speech, fakenews and cyber-bullying and for democratic principles.
The project 'Digitales Klassenzimmer' provides materials for a series of lessons that support students in acquiring digital competencies and develops, together with teachers, the know-how to design effective digital lessons.
This commitment is essential to impart knowledge and build competencies which are indispensable in a world that is changing at an ever increasing pace.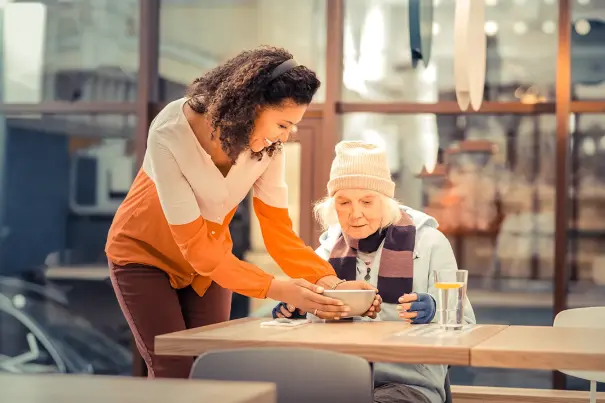 Strengthen the social environment – through local partnerships
We promote projects and welfare institutions and associations in the immediate vicinity of our production sites. The range of promotion goes from the local St. Martin's parade to the food bank 'Immersatt e.V.' for children and young people. In the future, we want to work even more closely with partners, exchange views and develop ideas together.
Project examples
Food bank for children and young people 'Immersatt e.V.' – local food bank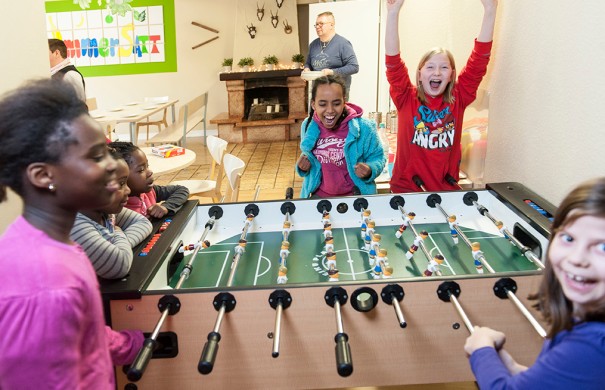 We have had a cooperation with 'Immersatt' for many years, be it for the wish tree campaign before Christmas, or within the scope of corona aid. The long-standing cooperation and the mutual trust benefits both: To 'Immersatt', we are a reliable partner, and we know that our financial support is put to good use. By the way, many employees now donate directly to 'Immersatt'. For over three years now, our trainees have emptied their wallets at Christmas, donating all hard cash.
'Werkkiste e.V.' – vocational preparation training and community center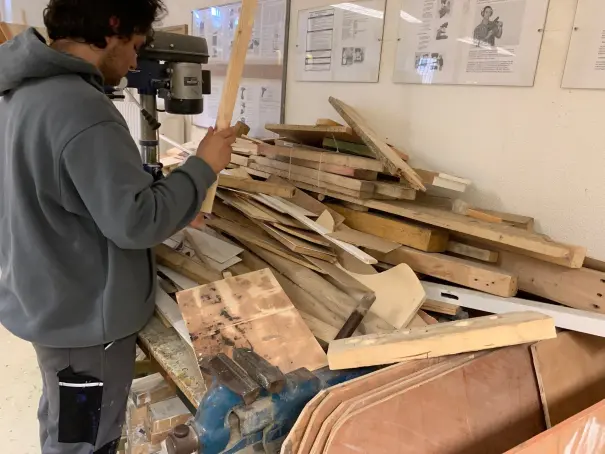 Duisburg's district Bruckhausen is located directly next to our headquarters, and the Duisburg-based 'Werkzeugkiste' is located here on the site of the old Liebfrauenkirche. The aim of the catholic institution for youth welfare and youth vocational assistance in the north of Duisburg is to discover talents and to open up perspectives. We have had a cooperation with 'Werkzeugkiste' since 2002: Young people who cannot find an apprentice position, are offered a second chance with a vocational preparation training. Moreover, the neighborhood center and the community center 'Ma(h)lzeit' have become close partners of cooperation. Our works café 'stulle & stahl' delivers lunch once a week to the welfare project. Our corporate citizenship is characterized by cooperation in large and small projects, always based on partnership.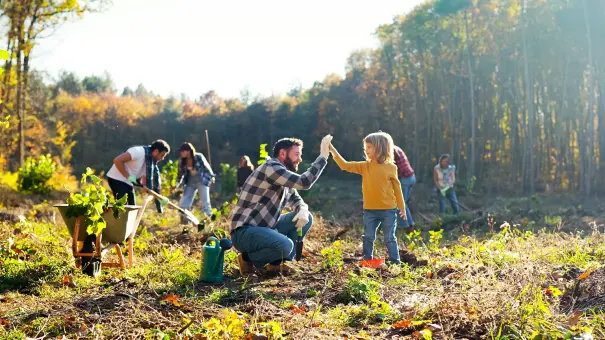 Protecting the environment - in the interest of all
By promoting sustainable citizens' initiatives, we want to support social change towards sustainability. We want to help create awareness and steadily increase public interest in the environment and sustainability. To do this, we promote sustainable consumption and innovative work and business models.
Project examples
august & alfred – the successful start of a social enterprise model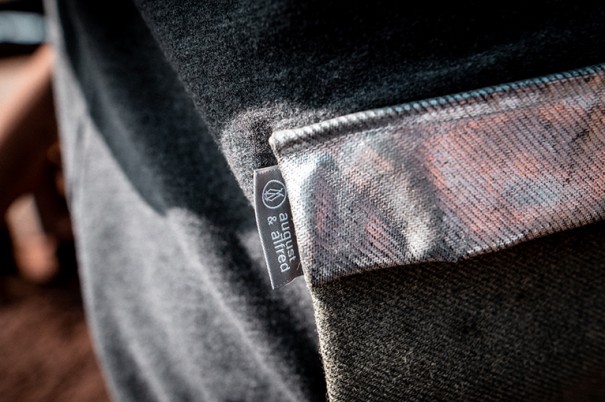 Steel is versatile, modern and has excellent recycling properties. The new brand 'august & alfred' combines all these features: It is not a new steel grade, but an extraordinary menswear and womenswear and accessories collection launched in cooperation with the fashion label Grubenhelden. What makes it special is that the garments are crafted from cast-off melters' coats, a special heat-resistant special protective workwear. The collection is manufactured in cooperation between the Duisburg-based Inclusion Workshops of our company and the fashion label Grubenhelden and is available commercially. The social enterprise model was developed by a project team of the 'Social Steel Pioneers': The team consisting of members from different areas of the company developed the collection, implemented the production process and finally launched the collection.
How we get involved
As a company, we fund projects related to our key topics. Moreover, we want to our employees to get involved too. More open-mindedness and a better interaction of people, ideas and projects benefit the corporate culture. As part of our corporate volunteering program, we want to give our employees the opportunity to become involved in company projects in the future. In addition, with the friends' association 'Hüttenhelden e. V.' we want to raise awareness for and value the private commitment of our employees: This association promotes projects in which our employees are privately involved.