Daily press, Trade press, 2014-07-15, 09:50 am
Schwelgern port: Major logistics hub on the Rhine handles 23 million tons of cargo per year – Steel mill terminal was extensively modernized 50 years ago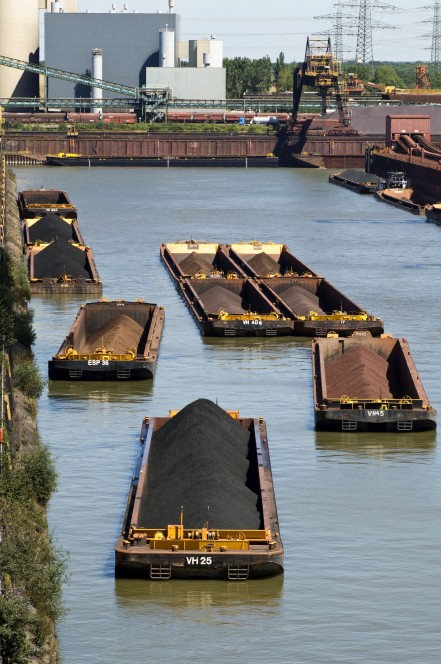 A second port basin, two new unloaders in Schwelgern, a new ore crushing and screening facility and a second sinter unit: At Schwelgern port in 1964 these were milestones marking a leap forward not just for the port but for the growth of the entire ThyssenKrupp Steel Europe mill. 50 years ago today the expansion of the port was completed, increasing the mill's ore storage space to altogether 160,000 square meters, the size of more than 22 football pitches. With a handling capacity of 800 tons of ore per hour, the ship unloader speeded up unloading particularly for barge trains. The employee magazine at the time described how the port terminal had been built "where anglers used to try their luck in a man-made pond". Today Schwelgern port has grown into one of the most important logistics hubs on the Rhine.
Of course there was an efficient mill terminal supplying raw material to the Hamborn iron and steel mill before 1964. But as production expanded at the growing Beeckerwerth site with its new melt shop and hot strip mill, the expansion of the port became inevitable. Today cyclists approaching Schwelgern port in Duisburg-Walsum enjoy views of ThyssenKrupp Steel Europe's state-of-the-art terminal facilities in a scenic riverside setting before the cycle path along the Rhine leaves the river bank for a few kilometers east of the port site.
Markus Wischermann, head of ThyssenKrupp Steel Europe's port operations, describes what is special about Schwelgern: "Today the raw materials imported via Schwelgern port secure supplies to the blast furnaces and coke plants of ThyssenKrupp Steel Europe". Schwelgern port is part of an integrated logistics chain and with an annual handling capacity of around 23 million tons numbers among Germany's largest inland ports. The port mainly handles ore for the four Steel Europe blast furnaces and coal for the coke plant. Each year around 10,000 push barges each carrying up to 2,800 tons of iron ore and other raw materials arrive at Schwelgern port. There the material is unloaded and transferred on by conveyor or rail. For this ThyssenKrupp Steel Europe employs 400 train drivers alone.
"In addition to ore, coal and coke, we also handle a million tons of granulated slag. This high-quality granulated slag is used for example in the cement industry and concrete construction," says Wischermann. Milestones in the development of Schwelgern port after 1970 included the inauguration of ship unloaders 3 and 4. With each grab capable of lifting around 20 tons, a handling volume of around 1,000 tons per hour is possible. In 2003 a new coke plant was built in Schwelgern which supplies the nearby Schwelgern blast furnaces with coke via large conveyors.
Schwelgern today is no longer comparable with the port terminal modernized and expanded in 1964, says Wischermann. For one thing the capacity of the cranes is even higher now, and the terminal and infrastructure have been further optimized. "That's particularly true of the ergonomic design of the handling facilities. Building on our successful track record, occupational health and safety remains a priority." In the internal "Steel Tomorrow Award 2013" the port won an award for accident prevention. The port's statistics are also a source of pride for Wischermann: "With its 23 million tons of cargo per year, ThyssenKrupp Steel is responsible for a large share of the cargo handled in Duisburg, Europe's largest inland port."