Trade press, Daily press, 2018-08-06, 06:00 pm
High-quality carbon steels with premium coatings for southern Europe: thyssenkrupp Galmed celebrates 25 years of hot-dip galvanizing.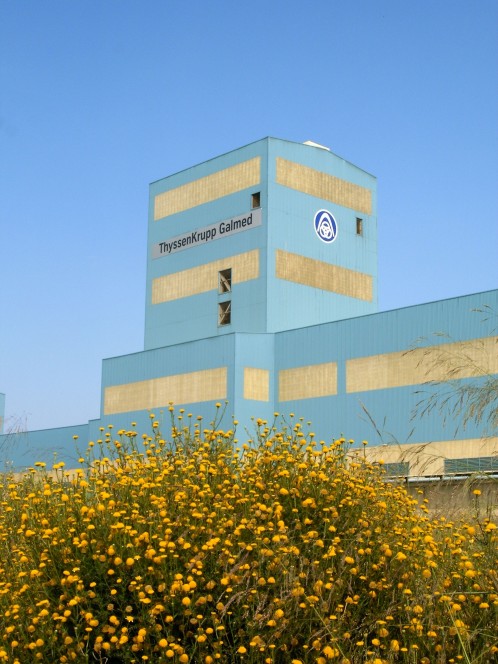 thyssenkrupp Steel Europe's hot-dip galvanizing line in Sagunto near Valencia in Spain celebrates its 25th anniversary this summer. Commissioned in 1993, it is one of the most technologically advanced facilities of its kind and produces extremely high-quality galvanized steel sheet mainly for southern European carmakers and their suppliers. With an annual capacity of 450,000 tons, the line employs around 130 people.
Key strategic role in the long-term supply of hot-dip galvanized products to the south European market
There has been an increasing trend towards hot-dip galvanized products in the automotive industry for years. Highly cost-efficient and with improved eco-credentials, these materials meet the industry's need for effective corrosion protection and flawless surfaces. "As we now also manufacture our in-demand zinc-magnesium products at our plant in Sagunto, we've secured the site's future. We've made targeted strategic investments here to ensure the long-term supply of premium products, e.g. for exposed automotive panels, to our customers in the south of Europe," says André Matusczyk, CEO of the Automotive business unit of thyssenkrupp Steel Europe. As well as offering enhanced and cost-saving processing properties, zinc-magnesium products deliver high levels of corrosion protection with significantly thinner coatings. A 30 percent reduction in the amount of zinc required also makes ZM products more eco-friendly. "With 11 percent year-on-year growth, Spain's auto market is one of the fastest-growing in Europe. By focusing our portfolio on premium products, we want to further improve our strong position here," says Matusczyk.
Top efficiency and performance thanks to a highly motivated team
Further ongoing investment in coating technology and process automation will help the 130 employees at thyssenkrupp Galmed secure the plant's strong position. Also at the top of the agenda are improvements in occupational safety. "We have a highly motivated and enthusiastic team here in Sagunto," says plant manager Miguel Arrabal. "The temporary closure of the line following the economic crisis was a difficult time. So the team effort to restart the line in 2016 was all the more impressive, allowing us to achieve top product quality for our customers very quickly. That takes enormous motivation and great skill. Now we are proud to be able to celebrate 25 years of Galmed. With the support of our latest investments, our modern portfolio and our highly motivated team, we can look to the future with optimism".
About thyssenkrupp Galmed
Galmed S.A. was established in 1992 as a joint venture between Thyssen AG, Ensidesa and Sollac with the strategic goal of supplying mainly automotive customers from a local base. Production started with 32 employees in summer 1993. In 1996 the plant commenced production of premium sheet for automotive outer panels. In 2003 the then ThyssenKrupp Stahl AG acquired the remaining shares to become sole shareholder of Galmed. In 2013, against the background of the economic crisis in Spain, the line was mothballed. 55 of the 165 employees found jobs at thyssenkrupp Steel plants in Germany. With the economy recovering, the plant was started up again in December 2016. Within a short time the high quality level required by the automotive industry was attained, production reached new record highs. Ongoing investments, e.g. in thyssenkrupp Steel's innovative zinc-magnesium products, will strengthen the site's strategy for the future.