Daily press, Trade press, 2017-05-19, 04:00 pm
Labor and employment ministers of G20 states visit thyssenkrupp in Andernach – Group CHRO Oliver Burkhard provides information on dual vocational training system and refugee program "we.help"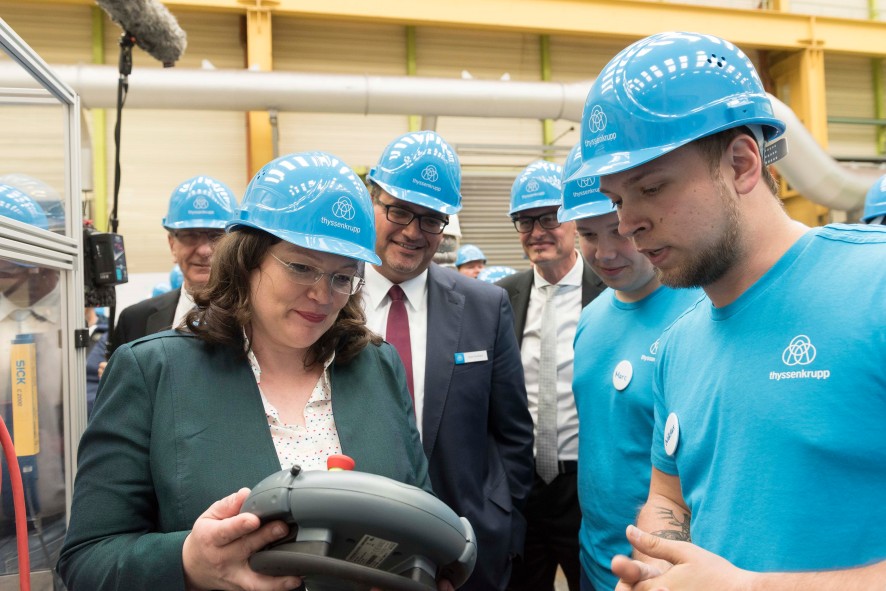 thyssenkrupp received high-ranking visitors today: The labor and employment ministers of the G20 states paid a visit to the company's plant in Andernach, the world's biggest packaging steel production site, where they were informed in particular about Germany's dual vocational training system. At the invitation of Germany's Labor Minister Andrea Nahles the G20 ministers were meeting in Bad Neuenahr for a two-day conference under German chairmanship in advance of the G20 summit meeting to be held in Hamburg on July 7 and 8. The conference was also attended by EU commissioner Marianne Thyssen. The results of the international conference of labor ministers from countries including the USA, Russia, China, India and Brazil will be discussed by the heads of state and government of the 20 most important industrial and emerging countries at the Hamburg summit. A key theme of Germany's G20 presidency is the international refugee situation. So during their visit to Andernach the ministers also gathered information about thyssenkrupp's "we.help" program as an example of the activities being undertaken by German industry to integrate refugees.
Occupational training has been an increasing focus of the G20 and its labor and employment ministers in recent years, and Germany's dual vocational training system is seen as an international model. "Germany's dual vocational training system enjoys an excellent reputation worldwide," said Andrea Nahles at the meeting. "It offers young people the ideal start to their professional lives by directly combining theory with practice. It provides a solid foundation from which to build a successful career. This is particularly important in view of the rising demand for skilled workers, but also when it comes to giving refugees opportunities on the labor market," said Nahles. "I am delighted to be here today with my fellow G20 ministers to see how well it works at thyssenkrupp Rasselstein."
Based on this model thyssenkrupp has provided training to thousands of young people over the years, and the successful principle is also being transferred to an increasing number of international locations. "Whether in commercial or technical occupations, the dual vocational training system is an excellent career springboard," said Oliver Burkhard, Chief Human Resources Officer of thyssenkrupp AG. "This is certainly one of the reasons for the outstanding learning levels achieved under this system and the low level of youth unemployment by international standards. At thyssenkrupp we are transferring as much as possible of this successful German model to our training facilities around the world, making an important contribution to sustainable training and education at our locations," said Burkhard.
thyssenkrupp training 3,100 young people in 50 occupations throughout Germany
The ministers visited the plant of thyssenkrupp Rasselstein GmbH and spoke with apprentices at Germany's only tinplate manufacturer. 160 young people are currently undergoing apprentice training in Andernach. thyssenkrupp's steel division has almost 1,300 apprentices. In thyssenkrupp's German operations, more than 3,100 young people are being prepared for their future careers in over 50 different occupations – from industrial mechanics to mechatronics engineers. They are supported by 139 full-time trainers in 30 apprentice training shops and 51 works schools.
Over 150 additional apprenticeships and 230 internships for refugees
During their visit to thyssenkrupp Rasselstein GmbH, one of the three biggest tinplate suppliers in Europe, the G20 ministers also met refugees who are receiving apprentice training in Andernach. In September 2016 thyssenkrupp and the company's works council launched a refugee program under the name "we.help" as part of the "Wir zusammen" (we together) integration initiative of German industry. Under this program, thyssenkrupp will provide 150 additional apprenticeships and 230 additional internships by the end of 2017. As part of "we.help" over 200 contracts with refugees have already been signed, including around 40 apprenticeship contracts. Nearly all refugees starting their apprenticeships with thyssenkrupp secured their places by completing an internship and introductory training. This situation is reflected at thyssenkrupp Rasselstein GmbH, where 15 young people from Syria, Eritrea, Afghanistan and Guinea are undergoing apprenticeship or introductory training. In addition there are 30 internships for refugees. Overall thyssenkrupp's steel division has created 100 additional apprenticeships and 40 other training positions. "The principle of we.help works. So we're confident that we'll achieve our target of 150 additional apprenticeship contracts by the end of 2017. Access to the labor market is extremely important for anyone wishing to stay in Germany permanently," said Oliver Burkhard at the event in Andernach. "The success of the program is due in particular to the great efforts of our trainers and mentors from the workforce."
About thyssenkrupp AG
thyssenkrupp is a diversified industrial group with traditional strengths in materials and a growing share of capital goods and service businesses. Over 158,000 employees in nearly 80 countries work with passion and technological know-how to develop high-quality products and intelligent industrial processes and services for sustainable progress. Their skills and commitment are the basis of our success.
In fiscal year 2015/2016 thyssenkrupp generated sales of around €39 billion. Together with our customers we develop competitive solutions for current and future challenges in their respective industries. With our engineering expertise we enable our customers to gain an edge in the global market and manufacture innovative products in a cost- and resource-friendly way. Our technologies and innovations are the key to meeting diverse customer and market requirements around the world, growing on the markets of the future, and generating strong and stable earnings, cash flows and value growth.
About thyssenkrupp Rasselstein GmbH
In Andernach, the world's biggest packaging steel production site, thyssenkrupp manufactures tin-coated and chromium-coated blackplate in thicknesses of 0.100 to 0.499 mm – with or without organic coating (paint, film) depending on customer requirements. As one of Europe's biggest packaging steel producers thyssenkrupp supplies around 400 customers in 80 countries.
More than 90 percent of the material is used in the packaging sector, for example for the packaging of food, beverages and aerosols. But this versatile material is also increasingly used for non-packaging applications, for example in the automotive and electronics industries.