Organic coil-coated material solutions for the housing industry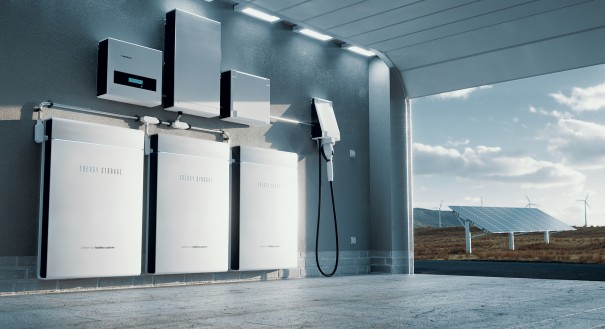 With our organic coil-coated pladur® sheet, we offer you the starting material for efficient production of top-quality steel housings, depending on your requirements for corrosion protection, formability, functional and attractive surface, temperature resistance, or UV protection.
And for your climate protection ambitions, we also supply coil-coated pladur® products as bluemint® Steel – to significantly reduce your carbon footprint.
Coil coating: Bright prospects for the solar and energy markets
thyssenkrupp Steel has been Europe's coil-coating specialist for more than 60 years. The organic coil-coated steels of the pladur® brand are ideally suited for use in the energy and solar sectors. Dr. Janek Wysoglad, product manager and expert for coil-coating products at thyssenkrupp Steel, goes into detail.
Mr. Wysoglad, what advantages does the coil -coating product pladur® offer, especially for the heating, ventilation, and air conditioning industry?
The advantages are indisputable: cost-effectiveness, efficiency, quality, workability, and sustainability for a wide range of surfaces. Our pladur® is already the optimal solution for enclosures and coverings in various applications, meeting high standards for corrosion protection, aesthetics, and functionality for many years. This includes applications in construction, industrial buildings, household appliances, commercial vehicles, and garage door manufacturing.
We're talking about over 700 different color shades, which we offer in various surface finishes. These represent in the highest level of refinement in thyssenkrupp Steel's portfolio, consisting of a composite material made of a steel substrate, hot-dip galvanization, and the organic coating. Additionally, the coil-coating process is one of the most sustainable coating methods available. This is due to the outstanding ratio of coated surface area per minute to solvent emissions, improved energy balance through heat recovery from burnt solvents, nearly 100% application efficiency, and reduced water consumption.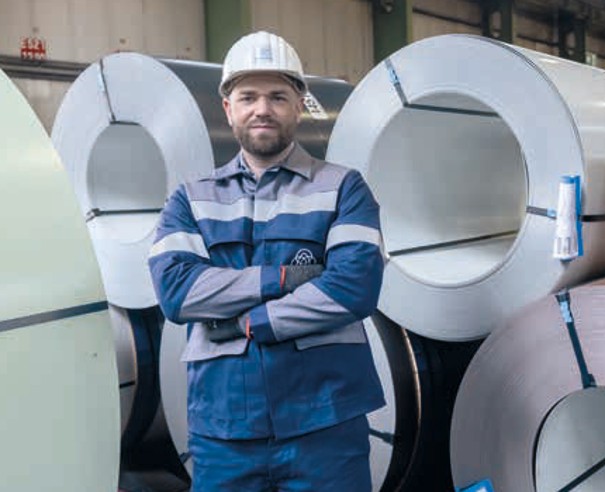 What makes organic coated pladur® steel so interesting for the solar and energy market?
Up to now, components for these industries have been coated in a time-consuming process, which means additional time, storage, material, and production costs for our customers, among other things. Thanks to coil coating, the customer receives a product with a finished surface that has been coated in an environmentally friendly manner, is available in many different color shades and surface variants, and is directly suitable for further processing. True to the motto "finish first, fabricate later," our customers can shorten their production processes by the coating step and thus simplify them considerably. An innovative alternative for the industry, in our opinion. And the exchange with customers at the Intersolar trade show in June 2023 reinforced our assessment. Housings for wallboxes, air-conditioning, or heating units, as well as transformers and storage units for solar applications – our organic coil-coated flat carbon steel pladur® can be used for all these and many more products.
How can we best meet the requirements for materials used in housings and coverings?
Our pladur® portfolio is ideally suited for the HVAC1, solar, and energy industries. Currently, we are exploring ways to optimize it to precisely meet customer demands in housing manufacturing. For instance, we can respond to new surface requirements such as colors, textures, and effects with our custom coil-coated material solutions. We can also meet specific protective requirements and already offer pladur® in the CO2-reduced bluemint® Steel variant. In short, we are already working closely with our customers in initial discussions to define the requirements for specific cladding elements. For us, the transformation towards a carbon-neutral future is a significant opportunity, and we want to support our customers on this shared journey with the best materials and our expertise.
1Heating, Ventilation, and Air Conditioning.
Application examples for housings made from organic coil-coated steel