Mikhail Sergeyevich Gorbachev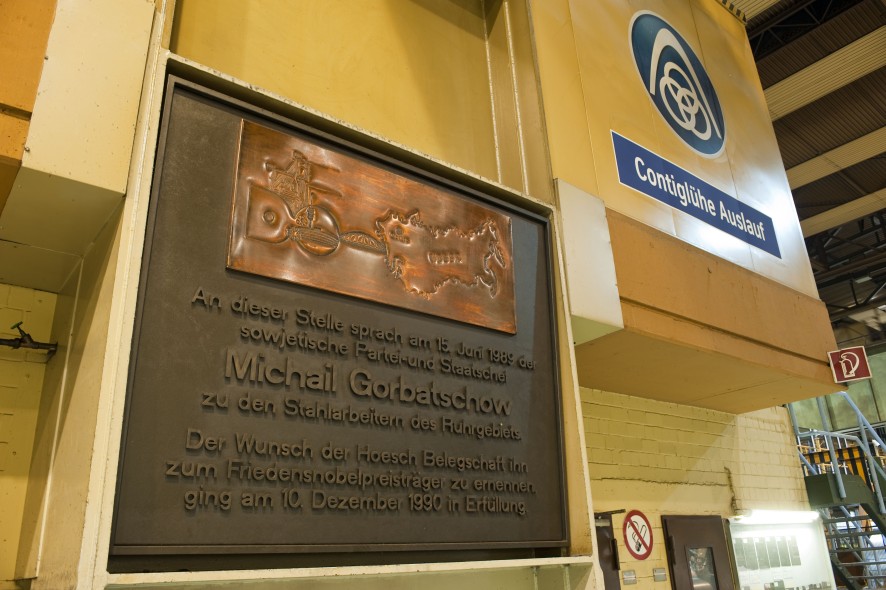 1989 – "Gorby" visits the Westfalenhütte in Dortmund
Germany was not yet reunified and the Berlin wall was only to fall five months later. But with his new policy of glasnost (openness) and perestroika (reconstruction), Mikhail Sergeyevich Gorbachev initiated the end of the Cold War. On June 15, 1989 Gorbachev, who was the General Secretary of the Central Committee of the Communist Party of the Soviet Union at the time, visited the Dortmund Westfalenhütte. He was received by the 9,000 steelworkers with enthusiastic chants of "Gorby, Gorby".
This politician, on whom all hopes are pinned, brings the Cold War between East and West to an end
Together with his wife Raissa, Gorbachev was on a three-day tour of Germany and visited Dortmund on the last day. Here he approached the people directly, hitting exactly the right note. "You as metal workers and steelworkers know how difficult it is to produce steel, what craftsmanship, what work and the sweat it requires. Developing better relationships and putting these relationships on track for better collaboration, that is something that is even more complicated," the man who prepared the way for German reunification emphasized. "But a worker knows. He knows that everything is created through work, that everything rests on that." And he concluded with the words: "It does not matter what opinion politicians or other representatives of society have of themselves: Ultimately, the foundation of any society is the working individual."
One and a half years later Mikhail Gorbachev receives the Nobel Peace Prize
As part of the event in Dortmund, the suggestion was also taken up of honoring Gorbachev with a special award for his efforts to bring about peace and mutual understanding. A commemorative plaque in today's production building at ThyssenKrupp Steel Europe is a reminder of the visit by Gorbachev a quarter of a century ago – and the wish of the workforce at Hoesch at the time to nominate the former Party Secretary and Head of State for the Nobel Peace Prize, which actually happened on December 10, 1990.