Energy
Environmentally sound technologies and high-tech materials
Energy requirements are increasing worldwide. The energy supply of the future requires among other things intelligent materials allowing a responsible handling during the generation, distribution and use of energy. Steels made by thyssenkrupp are an ideal material for the multifaceted energy industry meeting the high technical requirements on the material in terms of temperature, pressure and surface resistance.
With our high-quality product portfolio, we provide the right solution for regenerative and fossil energy generation, for the transportation and storage as well as the transformation of energy:
non grain oriented electrical sheets for wind turbines
line-pipe grades for pipeline construction
nickel steels for liquid-gas tanks
We continuously research and develop additional solutions supporting the increasing requirements of the energy industry. Among other things, we are working on an improvement with regard to the toughness and range of dimensions of line-pipes. With regard to other innovative products, R&D cooperations are a matter of course for us. Here, we attach great importance to long-standing partnerships.
Wind Power: powercore® Electrical Steel for Generators
Wind power giant Enercon based in the city of Aurich in Germany's East Frisia region, numbers among the industry's pioneers and innovators. The company owns over half of all patents worldwide for technologies associated with wind energy. Founded in 1984, Enercon has relied solely on gearless drive technology since 1992. Generators that form a single unit with the rotor hub optimize energy flow and ensure a long product life cycle. "Having fewer moving parts saves money and protects the environment," says Matthias Dutsch, CEO of Induction, Enercon's exclusive partner for generator production.
Partner for Wind Power Core Components
As a partner for the core components, the generators, Enercon has relied on powercore® products from thyssenkrupp Steel for many years. The electrical steel produced in Bochum is used throughout the entire energy supply chain of the electrical engineering process, from electricity production in the generators all the way to energy consumption in electric motors and other devices. Depending on the type of electrical steel used, powercore® can develop a high degree of efficiency there.
"The performance of the generators, and with it the efficiency of the entire wind farm, depends vitally on these special material properties," explains Thomas Sube, Account Manager for Non-Oriented Electrical Steel Application Technology, thyssenkrupp Steel. The properties of the electrical steel were specially optimized for use at Enercon and produced from a custom alloy to ensure higher magnetizability and stamping suitability and utilization of the stamping scrap in the foundry. This is yet another reason for the rise in efficiency in the manufacturing process of wind farms over the past few years.
Steel Recycling in the Wind Energy Sector
Enercon bucks current market trends, choosing instead to consolidate its important manufacturing processes internally. The company even operates its own foundry, where it produces rotor hubs, machine mounts, and blade adapters. Each component weighs several tons. What is notable here is that almost half of the materials used are steel scrap sourced from the company's own generator factory. The scrap from electrical steel stamping is collected, smelted, and recycled. The process was made possible through close cooperation between Enercon and its loyal partner in Bochum. The companies worked together to optimize the mix of materials used to produce the electrical steel.
Worldwide Expansion of Wind Power
Excellence pays off: The international wind market has its sights set on Aurich. Wind turbines manufactured in East Frisia now operate on a bluff in Brittany, on the gentle slopes of Anatolia, and in the northern Swedish province of North Bothnia. Following a successful testing phase in the Netherlands, the latest generation, E-138 EP3, will now be making its way overseas. One hundred twenty EP3 wind turbines are travelling to Canada by ship.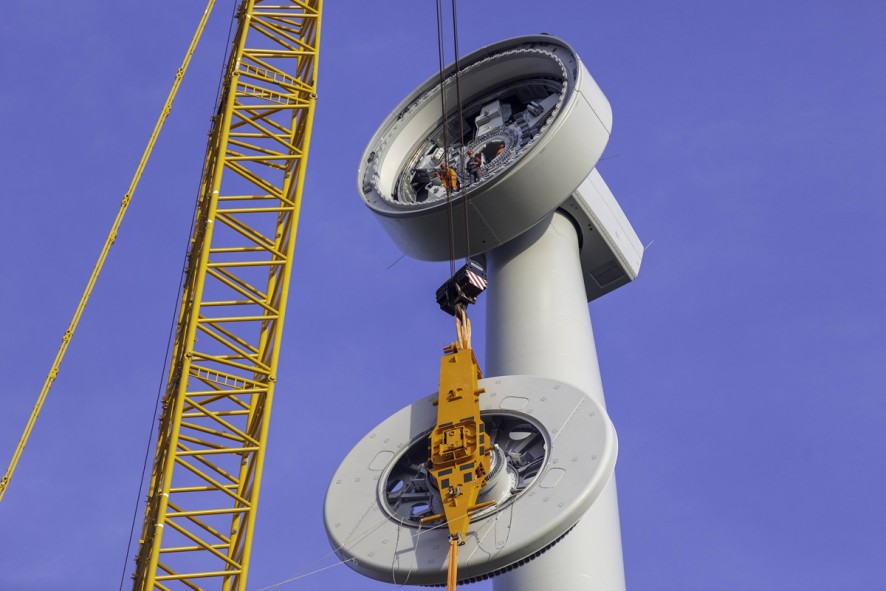 Electrical steel – ultra-thin, ultra-promising
Europe's energy companies are investing in wind and solar power more than ever before. As a result, a long-underrated material is gaining in importance: grain oriented electrical steel. This opens up good opportunities for thyssenkrupp Electrical Steel.
The numbers are impressive: According to a study commissioned by Handelsblatt, Europe's energy sector plans to invest around 650 billion euros over the next ten years. Most of the money will go towards building new wind and solar power capacities and the associated supply infrastructure, because huge amounts of extra green electricity will be needed.
A key role in this process will be played by powercore® products from thyssenkrupp Electrical Steel. These ultra-thin strips of high-quality grain oriented electrical steel made of iron-silicon alloy – with top grades no thicker than 0.23 mm – are used above all in modern transformers because they permit particularly efficient energy transmission.
To appreciate why efficiency is so important, it is necessary to understand the function of transformers. Transformers are used to step up the voltage of electricity so that it can be transported from A to B. Later they step down the voltage again so that the electricity can be used in the home. But in Germany alone, outdated and inefficient transformers result in transmission and distribution losses of two to three percent.
Electrical steel is the way forward
For this reason, the EU is tightening the minimum efficiency requirements for transformers installed in the electricity grid as of July 2021. Specifically, the new EU Ecodesign Directive Tier 2 aims to improve the efficiency of transformers so as to reduce power transmission losses. "In the future, even more differentiated electrical steel grades will be needed for this," says Georgios Giovanakis, CEO of thyssenkrupp Electrical Steel. Under the directive, the minimum efficiency requirement for transformers has been increased from 97.5 percent to 98.3 percent. That might not sound much, but it can make a big difference. Giovanakis: "If all the transformers in the world were fitted with more efficient materials, the energy – and therefore CO2 – savings made would be the equivalent of Africa's entire energy needs.
As a leading producer of ultra-thin electrical steel, thyssenkrupp Electrical Steel now has a great opportunity to profit from the next chapter in energy supply. "With our top grades we're already well positioned and can participate in the positive trend with our premium grain oriented powercore® products". The exciting opportunities opening up in this business area are demonstrated by our current collaboration with Siemens. thyssenkrupp Electrical Steel is supplying Germany's leading manufacturer with powercore® grain oriented electrical steel for the more than 30 high-tech transformers required for the Ultranet project currently under construction. Under this major project, which will significantly increase the performance of Europe's power highways, electricity produced from wind energy will be transported efficiently from the north of Germany to the south.
Megatrend with huge benefits
One thing is clear: As more and more distributed power generation plants are installed, more transformers will be needed. And as electric vehicles become more widespread and the EV charging infrastructure is expanded, the number of distribution transformers will grow. All of this will increase demand for the various grades of specialty steel manufactured by thyssenkrupp Electrical Steel in Germany, France, and India. For this reason the company is planning to produce even higher-quality grades of electrical steel in the future. Georgios Giovanakis: "The transition to renewables is a megatrend that is extremely beneficial to us. We see the market for top grades growing rapidly and therefore plan to further expand our product portfolio."