Multistory construction
pladur® – in a class of its own in every respect
Versatile
Always attractive – from monochrome to brightly colored.
The pladur® onestar* class demonstrates how buildings can be given high-quality architectural or functional highlights without breaking the budget. This proven material helps provide a more attractive appearance for all types of multistory building – with long-lasting effect: resistance to corrosion, UV radiation and wear are built into this robust material, which is available in virtually any color.
Everything you need to stay looking good for decades.
Architects and construction engineers will also particularly appreciate the outstanding quality and excellent processing properties of pladur®. Unusual shapes, joining, bonding – all these are possible, and without compromising strength. Building owners will be delighted by another aspect: outstanding value for money. pladur® onestar* in particular scores very highly in this respect, for example in comparison with conventional materials such as aluminum.
Stylish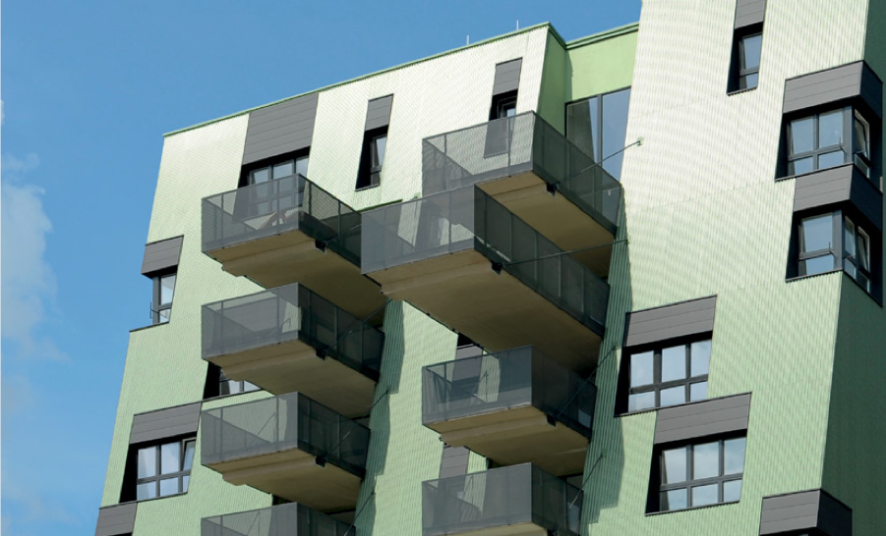 Bringing out aesthetic features.
Whether the aim is for buildings to blend in or stand out – with pladur® everything is possible. High-quality pladur® twostar** materials are available in a wide range of colors and numerous surface textures to create special effects. The prefinished materials display high resistance to corrosion and wear, and additional properties can also be provided on request, for example when easy-to-clean surfaces are required for aesthetic reasons.
Everything you need for fascinating facades.
Whatever your color or functional requirements as an architect or building owner, with pladur® twostar** you can relax in the knowledge that even the most unusual ideas can be realized. Panel manufacturers will also appreciate the excellent processing properties of the material, making it possible to produce a wide range of elements for the most varied of solutions.
Impressive
Steel appeal.
In addition to providing employees a place to work, company headquarters buildings often perform a signature function to demonstrate the organization's high quality standards. pladur® threestar*** is the perfect solution – permitting a combination of premium color creations and custom surface textures to emphasize the exclusive character of the buildings, both outside and inside.
Everything you need to give buildings greater character and personality.
With its zinc-magnesium coating pladur® also offers outstanding corrosion protection, along with extremely high resistance to both UV radiation and wear (e.g. scratching). And the materials also retain their color to ensure the outstanding visual standards of the building do not fade over time.
But applications for pladur® are not limited to facades. They can be used for other outside or inside surfaces, e.g. for interior ceilings to improve acoustics.
pladur® threestar*** also displays excellent bending, deep drawing and profiling properties. Overall pladur® offers architects, building owners and panel manufacturers the complete freedom to give each building its own unique character.
Customer focus delivered as standard
To enjoy continued success on a market, it's important to be very close to the market and its players. As one of Europe's leading coil coaters, we collaborate closely with our business partners, customers and suppliers. Within our organization, our technology, innovation and sales functions are united in their focus on meeting and even exceeding the requirements of pladur® users.
Interested?
Our partners
Part manufacture with pladur®
DS Stahl GmbH
Our large range of steel profiles can be used to produce attractive and long-lasting roof and facade solutions for numerous applications. Our broad portfolio combined with our engineering expertise opens up almost endless possibilities. That means safe and practical solutions, but also special and unconventional results that benefit every building owner. The high-quality coatings, e.g. pladur® Relief Icecrystal, enable the individual, unique design of building envelopes in many attractive colors and with interesting profiles, such as the DS Premium facade profile. Naturally we also supply a complete range of accessories in all variants.
Contact
DS Stahl GmbH
Feldstrasse 1
27419 Lengenbostel
Tel. +49 42 82 59 48 30
Fax +49 42 82 59 48 55
[email protected]
LAUKIEN
Steel facade elements
For more than 65 years LAUKIEN has been manufacturing steel panels, liner trays, cladding materials, trapezoidal and corrugated profiles for tailored, high-quality facade designs. High product quality, a wide range of different shapes and structures and the flexibility to realize even individual ideas successfully combine to make LAUKIEN a specialist in the field of metal facades. Our expert customer support team is available to support you in all phases of the project.
Contact
Hans Laukien GmbH
Borsigstrasse 23
24145 Kiel
Tel. +49 431 7187-0
Fax +49 431 7187-250
[email protected]
Hoesch® Bausysteme GmbH
Hoesch® Siding Plus with Evoshine® "de-luxe RAL" or "matt-de-luxe"
Widths from 200 mm to 800 mm and structurally optimized profile geometries open up completely new possibilities for cost-efficient facade design. Together with the patented Hoesch substructure and innovative Evoshine® surfaces, Hoesch Siding Plus is an ideal solution for the demanding office, commercial and residential construction sector. The matching, multifunctional Hoesch substructure allows the combination of different widths and the use of sidings with invisible joints or shadow gaps within one and the same facade. In this way design grids can be adapted optimally at a low cost in both new construction and modernization projects. Hoesch Siding Plus is always installed tension-free and without penetration.
Contact
Hoesch Bausysteme GmbH, Hammerstrasse 11, 57223 Kreuztal
Tel. +49 2732 599-1599, Fax +49 2732 599-1271
Christian Pohl GmbH
Christian Pohl GmbH has over 150 years' experience in facade construction and sheet metal processing. We always manufacture to customer specifications and work with you to develop your individual facade and sheet metal solution. Our team of specialists and experienced employees will also be pleased to support you in the planning, consulting and technical execution of system and custom facades. We handle all your project needs from initial idea to delivery to ensure your wishes and expectations are met in full. Whether you are planning a new building or modernization project: Make a custom-made POHL facade your hallmark – we look forward to working with you.
Contact
Christian Pohl GmbH
Robert-Bosch-Strasse 6
50769 Cologne
Tel. +49 221 70911-0
Fax +49 221 70891-23
[email protected]
Fielitz
With the almost unlimited possibilities provided by unidirectional and freely programmable 3D forming, Fielitz GmbH offers architects and building owners a wide variety of attractive and architecturally sophisticated designs for the facades and interiors of their buildings. The Fielitz GmbH showroom contains a large number of previously developed designs that can be used as a starting point. But we are of course also pleased to develop custom solutions based on personal designs.
Contact
Fielitz GmbH
Im Weiherfeld 5
85051 Ingolstadt
Tel. +49 (0) 84193514-0
[email protected]
Hebrok
We give your building a face!
The term facade originates from the Latin word "facies" meaning face. And like a face, the facade determines the appearance of a building and gives it a character of its own. But in addition to looking good, facade materials must also be functional and durable. thyssenkrupp has the ideal material: pladur® – attractive, innovative, sustainable. Hebrok knows how to use it: custom-made and built to last.
Contact
Hebrok GmbH & Co. KG
Herforder Strasse 309
33609 Bielefeld
Tel. +49 521-970500
Fax +49 521 9705020
[email protected]
Lummel GmbH & Co. KG
From our origins as traditional plumbers, we now ingeniously combine craftsmanship with contemporary history to create industrial perfection. This synthesis gives building owners and architects the greatest possible design freedom. You can use our solutions to turn your visionary ideas into reality – worldwide.
Contact
Lummel GmbH & Co. KG
Julius-Echter-Strasse 65
97753 Karlstadt
Tel. +49 9353 941-0
Fax +49 9353 941-44
[email protected]
SCHRAG|Fassaden
As specialists for metal rainscreen facades, we invest all our passion into your idea. Our goal is to create the perfect tailor-made suit for your building! Whether you're seeking solutions for new buildings, modernization projects or special structures, as manufacturers of metal facades, specialist planners and facade builders we offer you first-class facade systems. SCHRAG provides comprehensive service from the initial consultation, design and dimensioning, and construction of sample facades to the realization of your building project.
Detailed and above all forward-looking planning is the key to project success. With the SCHRAG|Facade Planner we provide you with the tools for planning and tendering for a SCHRAG facade.
Contact
SCHRAG Fassaden GmbH, Jagdschänkenstrasse 108, 09116 Chemnitz
Tel. +49 371 8 42 36-0, Fax +49 371 8 42 36 20, [email protected]