Trade press, 2014-10-20, 08:00 pm
From InCar®plus demonstrator to Multibond Damascus steel
ThyssenKrupp Steel Europe presents its latest innovations at the "EuroBLECH 2014" trade show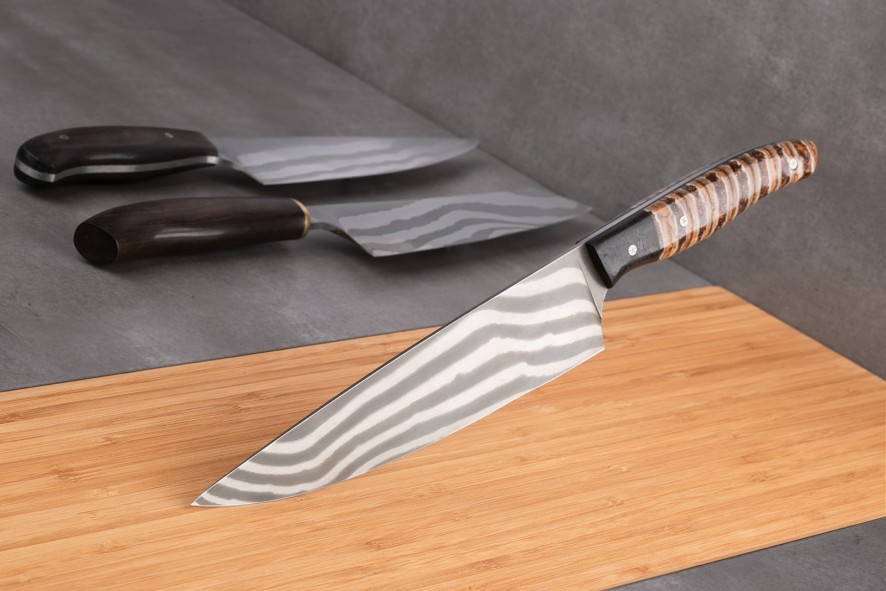 The demands on steel producers are rising all the time as customers press for ever more sophisticated technical solutions. Against this background innovativeness is a key competitive advantage. ThyssenKrupp Steel Europe, one of the world's leading suppliers of premium flat carbon steel, will be presenting the latest developments in the steel sector at EuroBLECH 2014, the sheet metal industry's leading trade show from October 21 to 25 in Hanover. The company will be displaying a series of impressive exhibits on its booth in hall 17, booth E 33. They range from the InCar plus demonstrator featuring innovative solutions for automotive efficiency, to interesting steel concepts for wind turbine towers and flexible infrastructures, to a special Damascus steel knife.
The over 500 square meter booth features various themed islands. On eight islands dedicated to key customer groups ThyssenKrupp Steel Europe will give visitors a multimedia overview of steel's uses in the construction, automobile/truck, special vehicles, packaging, household, energy, engineering and sheet metal working sectors. Examples of current research and development projects will be on display on an innovation island. Also on show will be the InCar plus demonstrator, which will be an attraction for many show visitors.
The demonstrator highlights solutions from the "InCar plus" project. "InCar plus" is the biggest OEM-independent development project ever undertaken by an automotive supplier and is focused strongly on automotive efficiency. It brings together the automotive expertise of the ThyssenKrupp Group – over 40 validated solutions from 30 projects. ThyssenKrupp Steel Europe is involved in around half of these projects, focused mainly on the car body. All of the solutions serve a single purpose: to help make cars lighter, safer, more economical, more affordable and more sustainable. The projects highlight new opportunities for cost-efficient weight reduction in future generations of vehicles.
Various exhibits on the central innovation island underline how versatile steel is. For example there's "TetraFlex" a new steel concept for wind turbine towers, a model of which will be on display. A further model shows that steel can play a big part in forward-looking solutions for infrastructure and urban development in the future. Under a project called "InnoCity" ThyssenKrupp Steel Europe is developing steel structures and intelligent solutions for urban mobility in the cities of tomorrow. There will also be other design highlights: The first-ever Monobloc tinplate aerosol can from ThyssenKrupp Rasselstein impresses with high print quality and feel, with a seamless print image and without a visible bottom seam. Alternating layers of hard and tough steel in a kitchen knife made of Multibond Damascus steel from Hoesch Hohenlimburg make for ultra-high fracture toughness in everyday use and provide a real eye-catcher at EuroBLECH.
Steel experts will be on hand for direct discussions with visitors. "Talking to visitors gives us a much better understanding of what customers expect of us as innovation partners," says Jörg Paffrath, Head of Sales Industry at ThyssenKrupp Steel Europe.
Visit us at EuroBLECH 2014 from October 21 to 25 in Hanover, hall 17, booth E 33.