More hot-rolled strip per order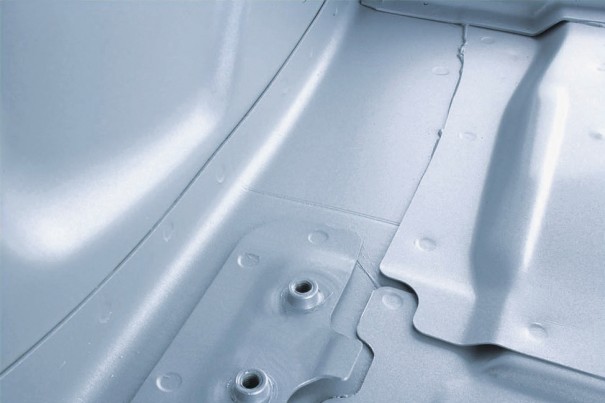 scalur®'s very tight tolerances fall far below the usual tolerances of hot-rolled strip. The calculation for our micro-alloyed steel S700MC serves as an example. The standardized tolerance thickness for micro-alloyed steel according to DIN EN 10051 amounts to +/- 0.29 mm at an ordered thickness of 2.10 mm. In comparison, the thickness tolerance of scalur® S700MC only amounts to +/- 0.05, thus being much tighter. Accordingly, the ordered thickness is reduced to 1.86 mm when ordering scalur®. This results in 11 percent less weight and a high potential for lightweight construction, especially when using higher strength steel grades. In addition, up to 120 extra band meters can be allocated per order.
Hot-rolled strip for cold-rolled purposes
With scalur®, thyssenkrupp Steel is proud to offer a hot-rolled strip with a homogenous microstructure for high ease of processing. The quality of our first-class hot strip is comparable to that of a cold strip. Yet, scalur® is much more affordable. Our hot strip has very low levels of sulfide inclusions and thus a high degree of sulfidic purity. At the same time, scalur® is very low in profile and suitable for direct processing. Another benefit: scalur®'s consistently high quality leads to a shortened setup time at the production plant and hence to less downtime and an increased production rate.
Available scalur® grades
DIN EN 10 111, DIN EN 10 025, DIN EN 10 149
Steel grade designation
Standard designation
THICKNESS1
from _ to in mm
WIDTH1
from _ to in mm
scalur® DD11
DD11
1.50 – 9.00
900 – 1,600
scalur® DD12
DD12
1.50 – 9.00
900 – 1,600
scalur® DD13
DD13
1.50 – 9.00
900 – 1,600
scalur® DD14
DD14
1.50 – 9.00
900 – 1,600
scalur® S235
S235
1.50 – 7.00
900 – 1,600
scalur® S315MC
S315MC
1.50 – 9.00
900 – 1,600
scalur® S355MC
S355MC
1.50 – 9.00
900 – 1,600
scalur® S420MC
S420MC
1.50 – 9.00
900 – 1,600
scalur® S460MC
S460MC
1.50 – 9.00
900 – 1,600
scalur® S500MC
S500MC
1.50 – 6.00
900 – 1,600
scalur® S550MC
S550MC
1.50 – 4.00
900 – 1,600
scalur® S600MC
S600MC
2.00 – 5.00
900 – 1,600
scalur® S650MC
S650MC
2.00 – 4.00
900 – 1,600
scalur® S700MC
S700MC
2.00 – 5.00
900 – 1,350
scalur® CP-W 800
Special mill grade
1.60 – 4.50
900 – 1,600
Thickness tolerances as a function of order thickness
| Sheet thickness t [mm] | Tolerance [mm] |
| --- | --- |
| 1.50 ≤ t ≤ 2.00 | ± 0.05 |
| 2.00 < t ≤ 2.50 | ± 0.06 |
| 2.50 < t ≤ 6.00 | ± 0.07 |
| 6.00 < t ≤ 9.00 | ± 0.08 |
You might also be interested in