Commitment to climate change mitigation
As a first step under the memorandum of understanding, the Knauf Interfer plants will be supplied right this year forward with steels that have a significantly lower carbon footprint thanks to the use of specially processed scrap. In the future, Knauf Interfer also intends to source materials from the bluemint® Steel product family for its entire Steel business unit. These are produced in a direct reduction process using hydrogen, and help to avoid emissions that are harmful to the climate. "The significant reduction in the carbon footprint of our precursor products is an important milestone in the decarbonization of the entire chain from production to the end consumer," says Domenico Marino, COO on the Executive Board of Knauf Interfer SE. Axel Pohl, Head of Sales Industry OEM & SSC at thyssenkrupp Steel, sees the alliance between the two companies as setting an important signal: "We are equally committed to sustainability and climate change mitigation. The agreement therefore not only represents another joint step in our strategic partnership, but also proves that major tasks facing society as a whole can only be tackled by working together."
Ecological materials are becoming more important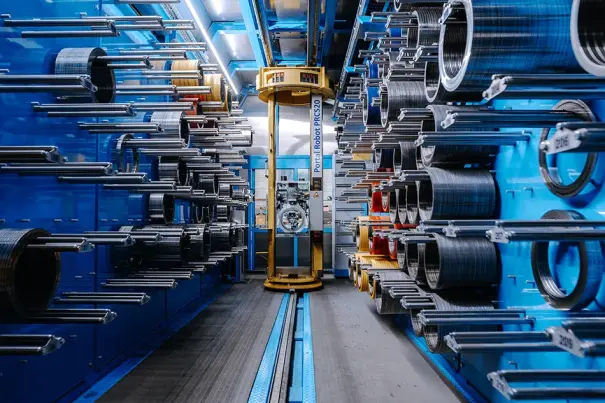 Knauf Interfer and thyssenkrupp Steel are quickly following up their announcement in the spring with action. Driven by the idea of solving customer challenges together, the two partners are working hand-in-hand to win over potential customers with their material and consulting expertise. And the same goes for sustainability. This is a philosophy that is also pursued by the Schrag Group – an association of networked specialists offering comprehensive solutions for roofs and facades in lightweight metal construction. Depending on the order and requirement profile, Schrag sources its material directly from thyssenkrupp Steel or through steel service centers such as Knauf Interfer. In the steel service center, the steels are stored temporarily and tailored as required before being sent to the individual Schrag production sites for further processing. And in the future, this will also include CO2-reduced steels of the bluemint® Steel brand. "Considering materials from an ecological perspective is gaining importance in construction," says Thomas Goswin, Managing Partner of the Schrag Group. Sustainable materials are playing an increasingly important role, particularly in tenders for contracts for administrative complexes or other public sector buildings. Goswin: "Construction is a price-sensitive industry and not every customer is yet willing to pay a premium for carbon-neutral steel.
But the issue will grow in importance as policymakers exert more influence through regulatory measures."
A vision for the future
For this reason, Schrag, Knauf Interfer and thyssenkrupp Steel are already laying the foundations for a more sustainable product portfolio, and testing out the processing of bluemint® Steel from thyssenkrupp along the entire process chain. In addition, the roof and facade specialist, Schrag, will present its first exhibit at the Blechexpo 2023 trade fair: Schrag purlins are profiles for the load-bearing construction of hall roofs, and they are made of CO2-reduced steel. This is not the first time that Schrag has set new standards. As a market leader and trendsetter, the company was one of the first in the industry to use higher-strength grades, for example, in order to achieve greater spans and material savings in industrial construction projects. The same now applies in the area of environmentally friendly materials. The cooperation between thyssenkrupp Steel, Knauf Interfer and the Schrag Group is on more than just an economic level. It also underscores the three companies' shared vision of building sustainable business models for the long term, and taking a stand on socially relevant issues. "For us, this means setting an example of resource conservation. Sustainable prosperity is based on responsible actions. We are fair, conserve resources, use renewable energy for our modern machines and constantly strive to improve our manufacturing processes," says Thomas Goswin. Torsten Gieseke, Head of Business Unit Steel/Managing Director at Knauf Interfer adds: "As the Business Unit Steel, we take on a central function in the green transformation: namely, accompanying our customers on the way to CO2-reduced products and pointing out optimum solutions in line with the steelmakers' production capabilities: We now want to show that, together, we are ready for green steel."