Daily press, Trade press, 2016-07-20, 12:10 pm
Hohenlimburg goes digital: New smartphone app gives customers direct access to business process data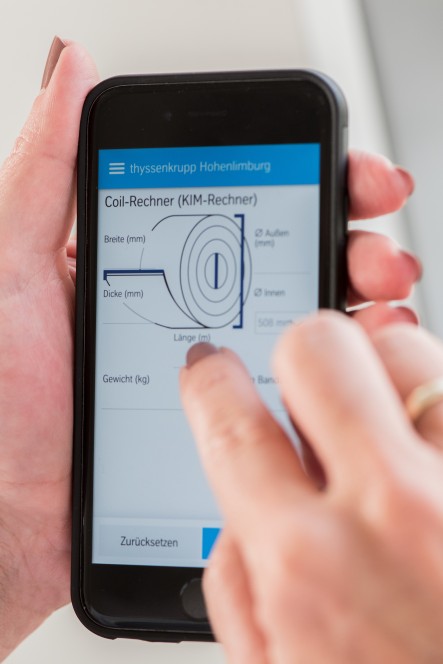 thyssenkrupp Hohenlimburg GmbH is expanding its communications channels with its customers. Customers can already communicate with the company via electronic data interchange (EDI) or through close horizontal business process integration by means of ERP systems (Enterprise Resource Planning). Now, against the background of "Industry 4.0" the mobility aspect is being strengthened: communication and interaction with thyssenkrupp's precision steel strip specialists via smartphone app. The "tk HO app" is available on all common platforms (iOS and Android). It is divided into a public section and a protected section for customers which can be accessed after authentication to retrieve and use business process data directly.
In the public section there is a tolerance and coil calculator. For example, users can use the tolerance module to determine tolerances in the manufacturing process depending on specific input parameters. KIM stands for "kilograms per millimeter" and is a core element of the coil calculator, which permits fast and simple conversions of dimensions and weights based on KIM.
In the protected section customers can view order data and delivery dates. It shows the current status of an order for every production step, giving users maximum transparency. Works certificates can be displayed and either sent out or printed from the app. Via "one click ordering", a fresh order for a previously specified product can be placed quickly and simply. All users need to do is enter quantity, delivery date and, if desired, order reference.
One special feature is barcode recognition. Via the smartphone camera customers can read the barcode on the coil label and then link with the coil data into the above mentioned menu items, for example to download works certificates. The data can also be used to communicate faster and directly with the mill. Further customer-friendly modules are planned.
"With the introduction of the customer app we are increasing our closeness to customers against the background of Industry 4.0 and offering new possibilities of interaction in the business process," explains Dr.-Ing. Jens Overrath, CEO of thyssenkrupp Hohenlimburg responsible for technology, sales and quality control.
Download links for Android and Apple: