Daily press, 2014-06-27, 10:14 am
Hot strip mill in Duisburg-Beeckerwerth started operation 50 years ago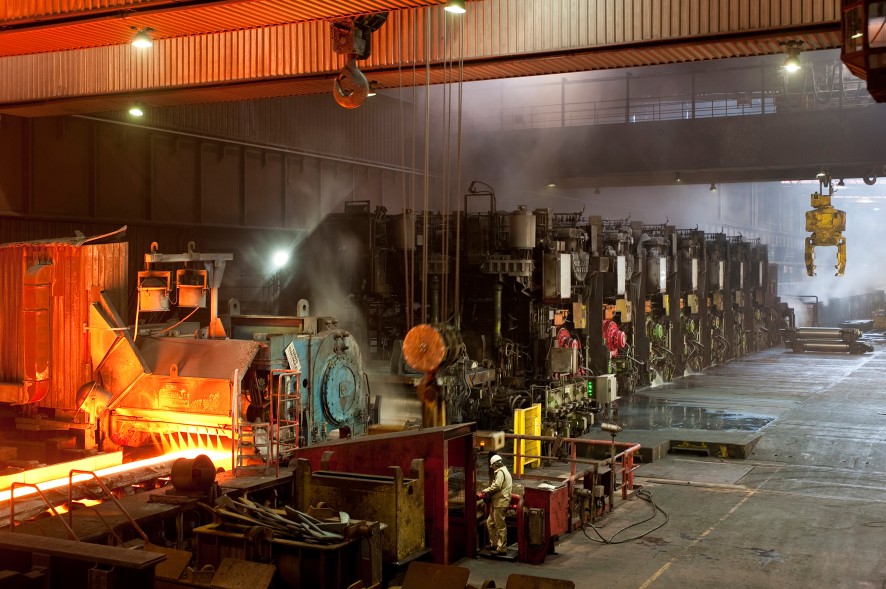 In the late 1950s, planning started on a major expansion to the production facilities in the north of Duisburg, resulting in the construction of an additional plant complex on the Rhine. As part of this, various plants were constructed in Beeckerwerth, including a large oxygen steelmaking plant. The new facilities stretched over a length of almost three kilometers and covered an area of around 200,000 square meters. 50 years ago, in June 1964, the last major unit, hot strip mill 2 in Beeckerwerth, was officially opened. To keep supplying customers with high-quality products, the modernization work begun on the mill last year is being continued this summer. "The Beeckerwerth site is the backbone of steel production in Duisburg and the hot strip mill plays a key role in this," explains Dr. Herbert Eichelkraut, Member of the Executive Board of ThyssenKrupp Steel Europe.
The construction of the Beeckerwerth complex was a milestone in the growth of the integrated iron and steel mill in the north of Duisburg. "In just four years – from the start of planning to commissioning of the cold rolling mill – a further important investment phase has been largely completed," wrote the former steel mill director Dr. Alfred Michel in the employee newspaper. "In this period over 800 million deutschmarks has been spent on the new facility." The hot strip mill itself processed its first slab on March 25, 1964 – after a construction period of just 16 months. Production was then ramped up. Dr. Michel was particularly perceptive in his planning. The mill was designed to produce sheet in sizes that would later be in big demand. This far-sightedness made the Beeckerwerth mill a key element of steel production in Duisburg, which it remains to this day.
Last year the mill produced its 200 millionth ton of hot-rolled steel, enough to build 27,400 Eiffel Towers. Hot-rolled steel is the basis for all flat steel products of ThyssenKrupp Steel Europe. The company operates four hot strip mills at its sites in Duisburg and Bochum, with an annual output of almost 12 million tons. The hot strip mill in Beeckerwerth is the largest with a capacity of around 6 million tons per year. To produce hot-rolled steel, slabs are rolled into thin strip in a series of mill stands at temperatures of more than 1,000 degrees Celsius. This material is either used directly by customers or is further processed at ThyssenKrupp Steel Europe facilities and then shipped to customers such as car manufacturers. At over 570 meters in length, the building housing the hot strip mill remains one of the biggest production facilities in the ThyssenKrupp Group and in German industry as a whole. Hot strip mill 2 employs altogether around 450 people.
The hot strip mill in Beeckerwerth has been extensively modernized over the years. For example, a new accelerated cooling system was installed which enabled ThyssenKrupp Steel Europe to expand its range of high-strength steels for oil and gas pipelines. Further investments included a computer control system for the roughing and finishing trains and larger motors for various roll drives. The modernization of the mill is being continued this year. From August, new roll guides, guards, drives and equipment for transporting and taking samples from the finished hot-rolled coils will be installed, involving another 40 million euros of investment. "It will allow us to further improve our product quality and also bring benefits for our customers," says Michael Bössler, head of hot strip mill 2. When the requirements of the auto industry increase – as they always do – the modernization means that ThyssenKrupp Steel Europe will be ideally equipped to deal with them.