Daily press, Trade press, 2014-08-05, 10:56 am
In the "man's world" of the blast furnace, the women in the metallurgy team at ThyssenKrupp Steel Europe occupy an important position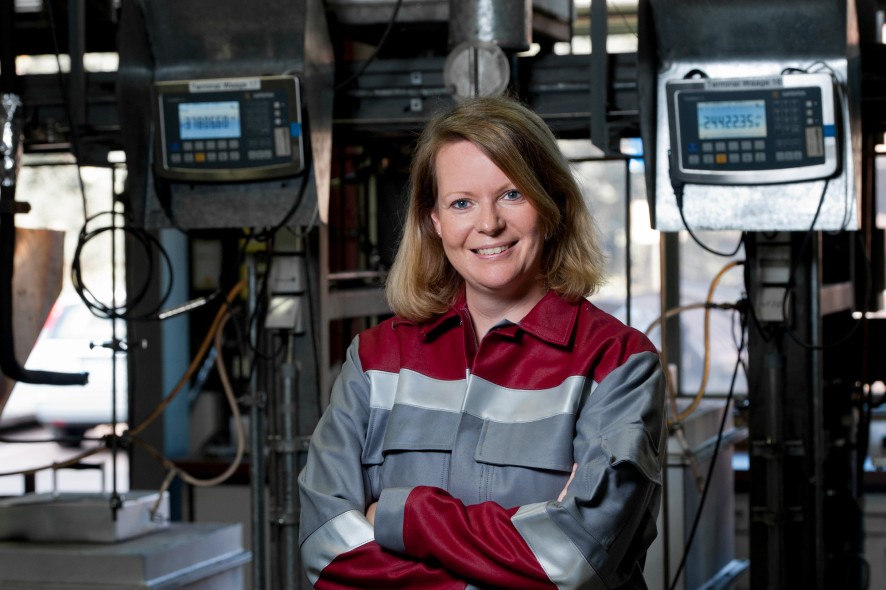 She is in charge of 13 employees in metallurgical process development and quality control at the blast furnaces in Schwelgern and Hamborn: Dr. Alexandra Hirsch (37), originally from Aachen, has lived in the Ruhr since 2008. As head of process optimization for the blast furnaces and quality control for the charge materials coke, sinter, lump ore and pellets at ThyssenKrupp Steel Europe, she finds nothing unusual in the fact that young women make up more than 30 percent of her team. "In the world of the blast furnace, previously the exclusive domain of men, there are still no female quotas." Even without quotas, her team – whose work revolves around metallurgical test equipment and laboratory furnaces – includes four women aged 20 to 40 who are there on the strength of their qualifications alone. "We use the equipment to test all our blast furnace charge materials at temperatures of 500 to 1,100 degrees Celsius."
But quality control is just one part of the team's work: They also develop new, innovative process technologies aimed at optimizing iron and steel production and reducing CO2 emissions and test them in collaboration with colleagues from around the world. "For many students of metallurgy, we are the first port of call when they are looking to gain practical experience alongside their university studies." The strategic focus of the team also attracts young industrial engineers looking to deepen their metallurgical knowledge for the engineering side of their training.
One of the young female metallurgists is the Brazilian Janaina Brum. The 28-year-old from Ponte Nova near Belo Horizonte is currently working in the metallurgy team on a research project into the use of optimized material grades in coke production. After a six-month internship at ThyssenKrupp Steel Europe in 2009 and completion of her bachelor's degree in Brazil, she decided to return to Germany in August 2010. "As a woman – especially one with a four-month-old daughter – it would have been difficult to find a job in Brazil," says Brum. With a scholarship from the Duisburg steel plant, she completed a master's degree in the Ruhr and remained true to the blast furnaces. "I felt really at home in Germany and in the metallurgy team," says the young mother, whose daughter Juliana (4) attends the company child daycare center in Duisburg-Hamborn.
Dr. Rosa Peter (33) is a recent addition to the team: After graduating in metallurgical science from TU Freiberg/Saxony and achieving a doctorate in engineering sciences while at Jülich Research Center, the mother of three now works in industrial metallurgy. Involvement in international research projects takes her all over Europe and requires good organization.
Martina Bolle (26) also works on the test furnaces in Duisburg. In parallel with her work as a chemical laboratory assistant, she is now studying process technology in evening classes at Georg Agricola Fachhochschule in Bochum. Her expertise meant that she was quickly accepted at ThyssenKrupp Steel Europe, and she enjoys her work in the traditional man's world.
Team leader Dr. Alexandra Hirsch on working with women and men in the metallurgy lab: "Through the mix of young and old, regardless of gender, we complement each other ideally." Men and women are treated equally. "What counts with us are qualifications, performance and team skills." The tone in the department, she says, has in fact become more considerate with the addition of young team members. "People are even joking that we will soon need a male quota."