Daily press, Trade press, 2014-07-21, 09:40 am
Modernization of blast furnace 2 in Duisburg-Schwelgern making good progress: Special heavy-lift crane moves 120-ton components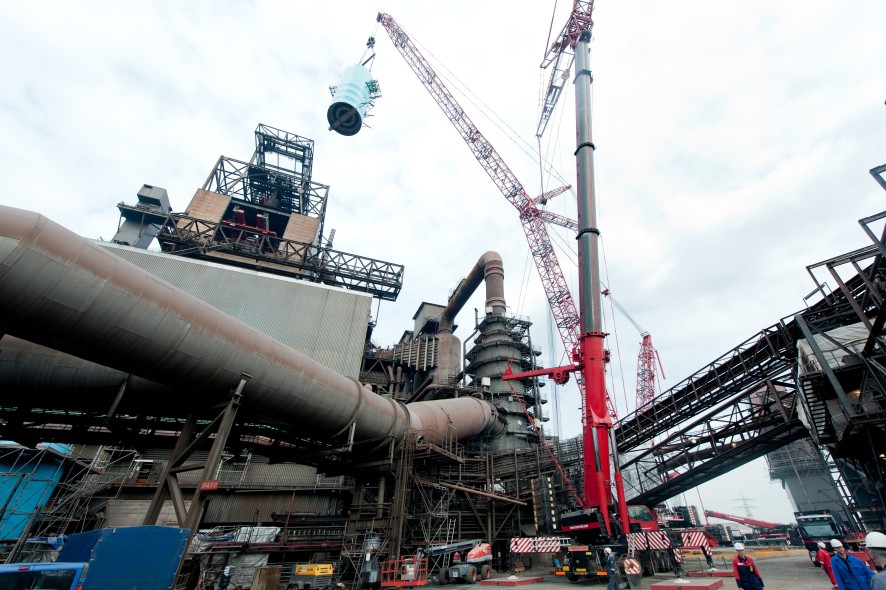 The modernization of blast furnace 2 in Duisburg-Schwelgern is proceeding according to schedule. Work on Europe's biggest blast furnace began in June. Now a new milestone has been reached: A special heavy-lift crane has transported important components to the facility. They included two material bins which will later feed the blast furnace with ore, coke and other raw materials. They each weigh 120 tons, the equivalent of an adult blue whale. Parts for a condensing tower weigh up to 45 tons. The parts, with diameters of up to eight meters, had been transported on freight ships to Walsum docks six weeks ago. They were too large to be transported by road.
First fired up on October 28, 1993, the blast furnace will go back into operation at the end of September, so beginning its second campaign – the name given to the period between major overhauls. By last year the furnace had already produced 75 million tons of iron. The current campaign life of blast furnace 2 of almost 21 years is unusually long for such a unit. Against this background modernization was essential. The project has been planned down to the last detail over a one and a half year period in order to keep downtime as short as possible. The project team drew on experience from previous relines to optimize work processes and carry out certain jobs – for example on the auxiliary units – before the furnace was shut down.
Today Schwelgern 2 blast furnace provides 550 jobs for employees of ThyssenKrupp Steel Europe, plus several times that number at service partners in the region.