Trade press, 2013-11-05, 12:30 pm
ThyssenKrupp Steel Europe presents innovative finishes for top class paintwork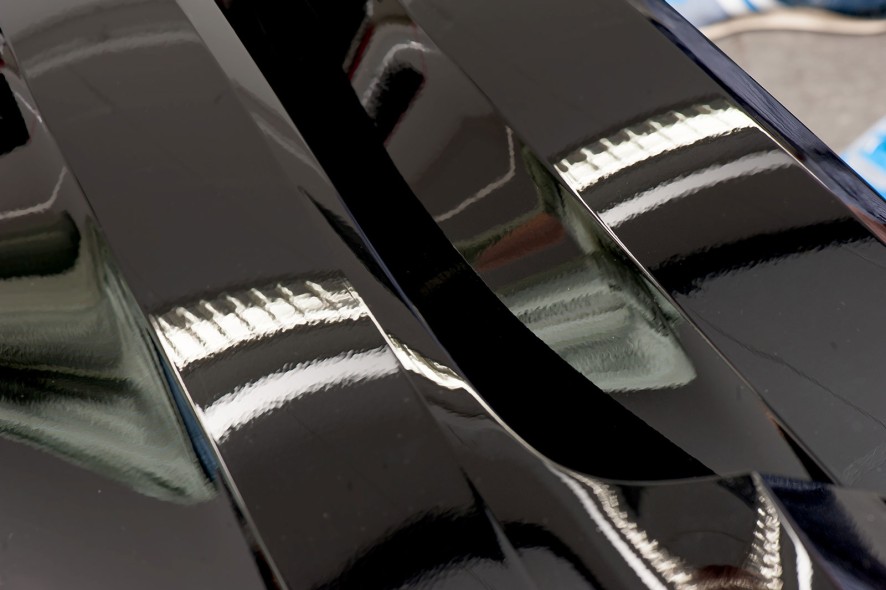 A car's design speaks for itself. When would-be buyers see the object of their desire gleaming in the showroom, sometimes they do not need much more persuading. That means first class paintwork is essential for OEMs. At this year's Blechexpo in Stuttgart (November 5 – 8), ThyssenKrupp Steel Europe will be presenting PrimeTex® and EloTex® – premium finishes for perfect body outer panels – at booth 5307 in hall 5.
The secret of good paintwork is many-layered. Success lies deeper than the naked eye can see, starting below the surface with the quality of the substrate material. Following seven years of intensive research and development work at ThyssenKrupp Steel Europe, the results are now ready for market: New corrosion-resistant materials are now available under the brand names PrimeTex® and EloTex®, hot dip galvanized and electrocoated variants.
Distortion-free mirror finish with good forming properties
The starting point for this development was the almost classic conflict of automotive body production: Painters want a mirror-finish surface, but for forming work such perfect smoothness would be a problem. In the press tooling, minimum surface roughness levels allow oil to adhere to the material; if that were not the case, process disruptions would be commonplace, because the workpiece and the die have a tendency to fuse together.
Now ThyssenKrupp Steel Europe has succeeded in resolving this conflict by designing surfaces with elevated plateaus and smooth valley floors with steep flanks. This meets requirements for both a distortion-free mirror finish and good forming. The steep transition from peak to valley provides lubricating surfaces that remain constant during forming.
The key to this success is skin pass rolling. During the galvanizing process, the coil passes through new high-precision rolls which imprint a very fine, even texture onto the zinc coating while at the same time harmonizing the wave-like variations in the roughness of the substructure. The result is a defined roughness profile with a high peak count and low long waviness.
Wsa value makes success measurable
The success of this method can be measured by optical methods, which were the focus of attention throughout the development process. ThyssenKrupp Steel Europe uses one of the numerous parameters – the wave surface arithmetic value (Wsa) – as a common denominator for the test method currently used by many customers in their paint lines – the longwave/shortwave (lw/sw) method. A low Wsa means a high-quality paint finish. Because Wsa also correlates with mean roughness (Ra), it also influences the formability of the material. In practice it is important to reduce the Wsa value of the sheet material to below 0.35. On conventional sheet materials, Wsa is frequently higher than 0.5. Extremely high process accuracy is therefore required that not only achieves a homogeneous texture but can also increase the number of peaks – important for forming – without visibly reducing smoothness.
Rolls manufactured by electrical discharge texturing
Similar to printing techniques, the surface of the skin pass roll must be a "negative" of the desired topography of the sheet material. Manufacturing corresponding rolls involved breaking new ground in collaboration with the manufacturer. Economic criteria such as acceptable cost, durability, straightforward refreshing of worn tooling, etc. were significant obstacles that had to be overcome. The rolls were produced using electrical discharge texturing (EDT), a relatively new process in which thousands of electrical pulses per second are discharged onto the roll surfaces. Ultimately this prevents the "orange peel" effect in the paint.
But in addition to an attractive appearance, it is very important that the innovative materials are also cost efficient. Currently, surfaces are smoothed by applying a filler in a complex process. Thanks to PrimeTex® and EloTex®, this energy-intensive and environment-unfriendly operation can now be eliminated. The first cars featuring PrimeTex® without the use of filler can already be found on our roads.
Anyone interested can learn more about the diverse products of ThyssenKrupp Steel Europe at the Blechexpo exhibition taking place at Stuttgart Exhibition Center from November 5-8 (hall 5, booth 5307).
The Steel Europe business area is focused on the attractive market for premium carbon steel flat products, where it is one of the world's technology leaders. It employs around 27,800 people and generated sales of almost €11 billion in fiscal 2011/2012. Its capabilities range from intelligent material solutions and product-specific processing to comprehensive service. It serves a broad spectrum of steel-using sectors, including the automotive, shipbuilding, engineering, energy, construction, packaging and appliance industries.
Information for journalists
Link to images and captions here.