Trade press, 2013-11-05, 12:33 pm
High-tech solutions for high-strength steels
ThyssenKrupp Steel Europe: Test facilities keeping up with trend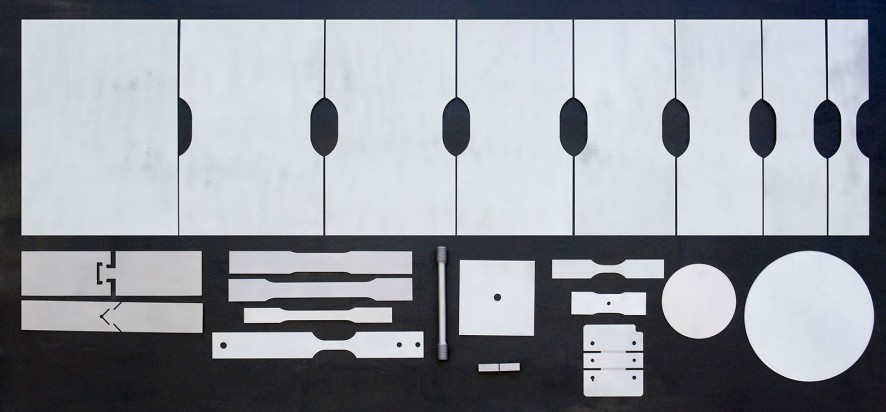 Never have cars been safer, more efficient or more eco-friendly than they are today – thanks partly to the ever increasing use of advanced high-strength steels in car bodies. This trend shows no sign of slowing and raises numerous questions concerning the development and processing of the new grades. Reliable answers will be provided by ThyssenKrupp Steel Europe at this year's Blechexpo exhibition taking place at Stuttgart Exhibition Center from November 5 to 8 (hall 5, booth 5307).
Today engineers work with bits and bytes to develop amazingly true-to-life auto components and steel materials on screen with apparent ease. Early on in the design phase, a work-in-progress can be tested with virtual steel. A tweak to the geometry, an alternative steel grade, a different material gauge – that can be all it takes to come up with a solution, i.e. a way of shortening the development cycle. By reducing the number of prototypes and real tests required, simulations save time and money, whereas producing press tools or car bodies for crash testing is complex and costs millions.
Simulation: a reliable digital tool
Simulations to assess the crash behavior of vehicle structures are standard practice at ThyssenKrupp Steel Europe. Over the past 20 years they have evolved into a reliable digital tool capable of modeling highly complex processes. Armed with increasingly powerful computers and corresponding mathematical processes, the steel experts are taking on ever more ambitious designs. The computer-generated environment realistically shows how specific steel grades or material thicknesses will behave not just in the event of a crash but also during forming in the die, without the need for carrying out actual processes – this not only saves time and money but also avoids misdirected development effort.
Precise material parameters essential
The trend towards lightweight construction and the resultant rapid rise in the number of high-strength steel grades at ThyssenKrupp Steel Europe poses a challenge for testing technology. As well as reliably modeling the process, the company's modern test facilities also have to realistically depict the different behavior of the various grades under varying loads to permit accurate differentiation. The smallest deviations in the data can lead to problems and increased costs further down the line. That's why data reliability is the top priority at ThyssenKrupp Steel Europe.
Simulation is therefore preceded by extensive material testing by the company's test department, where all material data needed for industrial use are painstakingly measured. Raw data of virtually all the materials in the Duisburg-based steelmaker's product range are systematically listed in a materials database – a facility only few steel companies offer in this form. The quality of the data is validated at national and international level by an extensive testing and approval process agreed with the auto industry and other industrial customers as well as study groups in the German division of the International Deep Drawing Research Group (IDDRG). This makes the results reproducible and at the same time increases the accuracy of simulations.
Going from strength to strength – thanks to modern test facilities
With the increasingly high strength of steels, improvements to simulation software, and customers' growing need for reliable and accurate simulation, ever higher demands are being placed on material data. This calls for further experiments under different stress states, as well as expertise to determine the properties revealed. ThyssenKrupp Steel Europe has therefore stepped up cooperation with equipment manufacturers and increased investment in new high-tech testing equipment and highly qualified personnel. The modern 1,000 kN testing machine, adapted to increasing steel strengths, now covers the entire range of grades produced by the Duisburg steelmaker. And the high-speed tensile testing machine, specially designed for high-strength materials, reliably determines stress strain curves at high strain rates to predict crash behavior. Using innovative analysis technology, suitable mathematical models of the material are then created for use in simulations.
Trend towards the virtual factory
With the race to develop increasingly high-strength steels far from over, there is a constantly growing need for simulations to model forming behavior, different stress states, and the influence of speed. To meet this need and also to provide reliable material data for the new generation of high-strength steels, new testing capacities and the expertise to determine standardized properties at these high strength levels have to be developed on an ongoing basis. The results greatly benefit product and process development in the auto sector, allowing time-saving, cost-efficient and reliable assessment of part manufacturability and analysis of product properties.
Anyone interested can learn more about the diverse products and services of ThyssenKrupp Steel Europe: at the Blechexpo exhibition taking place at Stuttgart Exhibition Center from November 5-8 (hall 5, booth 5307).
The Steel Europe business area is focused on the attractive market for premium carbon steel flat products, where it is one of the world's technology leaders. It employs around 27,800 people and generated sales of almost €11 billion in fiscal 2011/2012. Its capabilities range from intelligent material solutions and product-specific processing to comprehensive service. It serves a broad spectrum of steel-using sectors, including the automotive, shipbuilding, engineering, energy, construction, packaging and appliance industries.
Information for journalists
Link to the photos and photo captions here.