Trade press, 2013-11-05, 02:05 pm
ReflectionsPearl® brings unique look to facades
ThyssenKrupp Steel Europe coating creates changing play of colors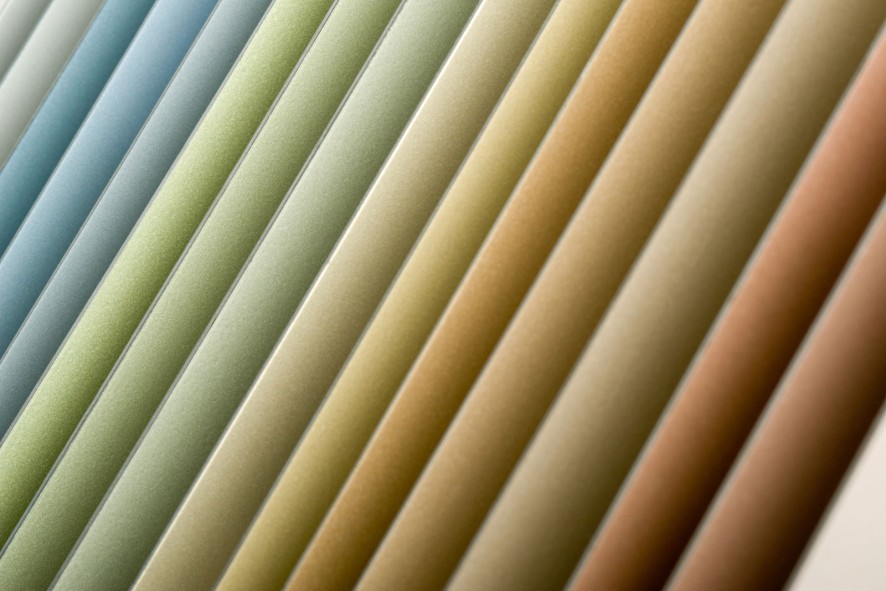 ReflectionsPearl® gives buildings a unique appearance and impact. As the first steel collection of its kind, the new coil coated material from ThyssenKrupp Steel Europe creates a changing play of colors on facades depending on light and viewing angle, providing a modern touch to premium high-rise buildings. The color effect can be viewed at this year's Blechexpo at Stuttgart Exhibition Center, hall 5, booth 5307, from November 5-8, or experienced live on ThyssenKrupp Steel Europe's new company kindergarten in Duisburg.
Company kindergarten goes for color
Bringing the inside outside is the motto for the new company kindergarten in Duisburg. With regard to color design that means making liveliness, play and fun visible. That's why the company opted for ReflectionsPearl®. Completed this summer, the new building is clad in discreet metallic red, green and blue tones. The color design of the facade is repeated on the inside, creating a high recognition factor among the children and a sense of well-being to promote their creativity.
Protection and creativity guaranteed
ReflectionsPearl® facades unite aesthetics and a protective effect. ThyssenKrupp Steel Europe uses a special combination of substrate and coating system to achieve this: Protection against corrosion is provided by the hot dip galvanized sheet material ZM EcoProtect® with a special zinc-magnesium coating, while the coil coating paints with their premium pigments protect the material reliably against the weather and dirt.
ReflectionsPearl® is available in six color series in a total of 16 tones. The harmoniously coordinated tones are perfectly combinable, providing great creative freedom for facade design. Numerous examples from the ThyssenKrupp Group demonstrate how buildings can blend harmoniously into their environments through organic coloring: For instance the ThyssenKrupp headquarters building in Essen is clad in a specially developed elegant gold tone, while the green tone selected for the new foyer of ThyssenKrupp Steel Europe's technology and innovation office building in Duisburg fits in perfectly with the buildings around it.
The Steel Europe business area is focused on the attractive market for premium flat carbon steel, where it is one of the world's technological leaders. It employs around 27,800 people and in fiscal year 2011/2012 generated sales of just under €11 billion. Its capabilities range from intelligent material solutions and product-specific processing to comprehensive service. Steel Europe serves a broad spectrum of steel-using industries, including the automotive, shipbuilding, engineering, construction, packaging and appliance sectors.
Information for journalists
Image material with captions (under "Description") can be downloaded here.