Tinplate packaging: the spray can is getting lighter
rasselstein® Solidflex is the latest innovation by Packaging Steel for producing tin can packaging that is lighter, more stable, safer, and more sustainable in the future.
© photo: Shutterstock
Development of the new premium material rasselstein® Solidflex began a few years ago – and it has finally been greenlighted for series production. We have summed up this new material's primary advantages under three headings:
1. An innovative material
The thyssenkrupp Packaging Steel business unit has developed a quality steel in rasselstein® Solidflex that will transport conventional steel packaging into the future. rasselstein® Solidflex is an extremely strong material that also boasts very good forming properties. Thinner material thicknesses can be used, while stability remains consistent.
This property is particularly important in the production of food cans that are opened using a pull tab. The "rivet" is what is essential here. This component connects the lid to the pull tab and should not detach as soon as you pull it. At the same time, the packaging steel has to be malleable and pliable enough for the rivet to be formed from the very same piece of material as the lid and for the lid to be effortlessly pulled from the can. This means that the material has to be both solid and flexible – or in other words, "Solidflex!"
2. A safe material
Alongside the aforementioned cans for foodstuffs with "easy-open ends," rasselstein® Solidflex is particularly suitable for manufacturing aerosol cans. The specially designed bottoms and lids of spray cans are ideal applications for this material.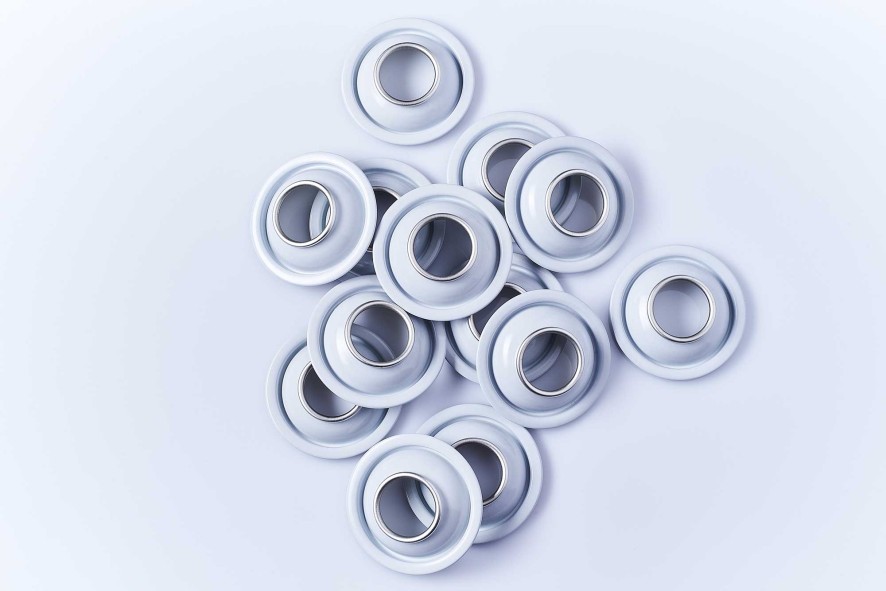 From deodorant and hairspray, to spray bottles for perfume and room scents, right through to spray foam for ovens and acrylic paint for furniture and cars – tinplate packaging is an essential part of everyday life. However, manufacturers may only bring aerosol cans on the market under special conditions according to EU law. Depending on the product that is being sold, it stipulates the exact pressure the spray can has to ensure before it "fails."
This "deformation pressure" is desirable, as it serves as a warning for the consumer. It can be seen from the lid and bottom of the can slowly – but safely – bulging outward. This means that you don't have to worry about cans exploding, as the consumer's safety takes top priority.
3. A sustainable material
rasselstein® Solidflex is considerably stronger than the material that has been used for spray cans up to this point. Its expansion behavior is different from conventional material. Its incredible strength makes its components more stable and means that they can be produced from thinner material. This allows more cans to be produced using the same quantity of tinplate.
Not only that, but spray cans made from rasselstein® Solidflex are lighter than conventional aerosol cans. This results in a weight reduction of up to 14 percent compared to standard spray cans.
By using rasselstein® Solidflex, the customer doesn't just reduce material costs, but also minimizes the CO2 footprint for each can. This ecological factor cannot be underestimated. Paired with the high recyclability of 95 percent for tinplate packaging, cans made from rasselstein® Solidflex are environmentally friendly and climate compatible.
Our innovative material rasselstein® Solidflex makes aerosol cans up to 14% lighter
It reduces the weight of the spray can, while keeping it stable, safe, and, of course, sustainable. This is made possible by a new extremely strong material that also boasts very good forming properties. Thinner material thicknesses can be used, while stability remains consistent.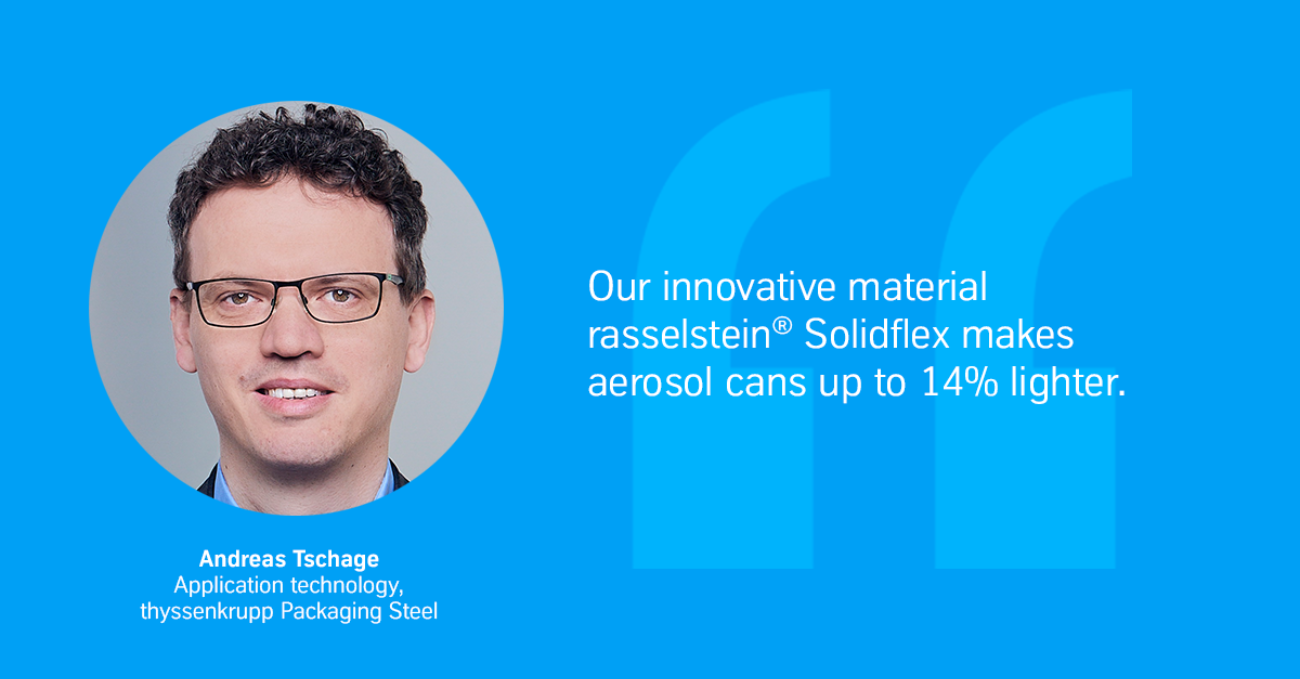 Usage hints
We gladly provide free of charge the images included in our media library for use within daily use in the press (including magazines published weekly or monthly). In any case, condition precedent for this is that when using them, you refer to our company as the source in the immediate vicinity of the image material used and in the customary manner (© thyssenkrupp Steel Europe). If a different author is indicated, this must be stated. You are only authorized to process images to the extent that this is technically mandatory for the specific publication (e.g. black/white instead of in color in a monochromatic daily newspaper) and/or to the extent you only change the size proportionally, without using only part of the image, or to stretch, compress or modify it in any other way or to deform it. Every other processing and use is only admissible after prior written approval (email to:
[email protected]
). We request to be provided with an author's copy free of charge and promptly after the respective publication of print media, with films with a digital version in a customary playback format on a generally readable data carrier. Where the image material is used online, you shall provide us with the detailed URL of the respective website and make this website accessible to us.
close