Wall of enclosures in XXL format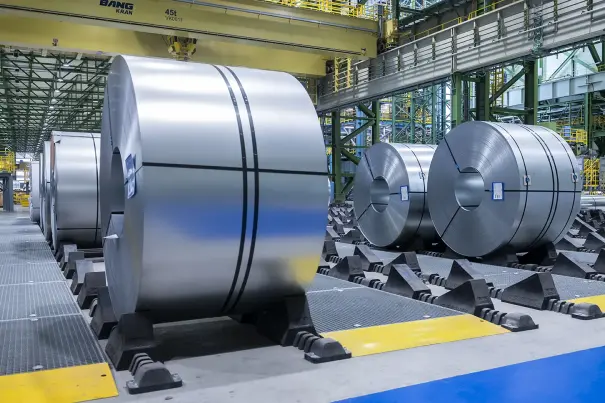 Around 3500 electrical enclosures can be found in the FBA 10. Depending on their design, they are used, among other things, to distribute the electrical power in the plant and to control and regulate the drives and units of the production line. 13,000 square meters of hot-dip galvanized sheet with a total weight of around 150 metric tons were required in the manufacturing process – produced by thyssenkrupp Steel, it goes without saying. To enable functional and robust system cabinets to be created from the corrosion-resistant and durable starting material for sensitive automation technology, six coils went on a tour to undergo further processing steps at specialized service providers.
Development from station to station
First stop: Dillenburg in central Hesse. This town is home to Stahlo, a company in the Friedhelm Loh Group, and one of the largest steel service centers in Germany to operate independently of any steel mill. Among other things, the company produces slit strip, sheets, shaped blanks and contours in all commonly encountered grades: from ultra-high strength to sensitive outer skin quality. As an interface, Stahlo is of central importance in the overall process. "We are the link between companies producing steel and those processing it; we specialize in the use of materials, and we network resources, people and technologies in an efficient way," explains CEO Oliver Sonst. Stahlo aims to position itself as a "green steel provider" in the future and has already signed an agreement with thyssenkrupp Steel to supply CO2-reduced bluemint® Steel. At Stahlo, the starting material was precisely cut into suitable blanks for further processing. In other respects: "The production processes are highly optimized in terms of dimensional accuracy and offcuts. We always provide the steel surfaces ready for painting on a just-in-time basis."
Flexible system technology
In the next step, the processed plates were sent to the small town of Rittershausen, birthplace of Stahlo's sister company Rittal. Rittal is one of the world's leading suppliers of electrical enclosure systems, automation technology and the associated infrastructure. Rittal uses roll forming processes to shape the plates cut by Stahlo into frame and enclosure parts, and processes them so that subsequent process steps require little outlay on the part of the customer. "A key feature of our system technology is that the design of the enclosures is completely flexible. It can be implemented efficiently and with a high degree of automation, based on a digital twin – including mechanical processing of mounting plates and flat parts," says Dr. Dirk Pieler, head of the Industry business unit at Rittal. The virtual images of the individual enclosures – referred to as digital twins – are created in the early planning phase and migrate throughout the entire process. They are developed with the help of software developed by Rittal's sister company Eplan, and are used by the technology company Andritz, based in Graz, Austria, as the basis for configuring and equipping the many different enclosures.
Efficiency through digital workflow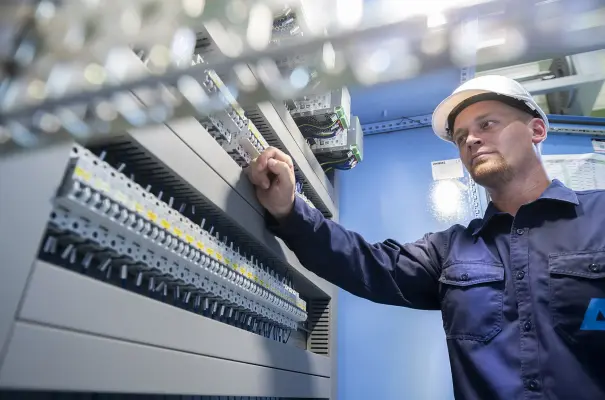 Andritz provides plants, systems, and services for various industries – and was responsible for implanting the necessary intelligence into the overall system at FBA 10. "The highly complex and extensive project, with a circuit diagram spanning more than 100,000 pages and millions of data points, was planned and designed using a highly automated database-supported engineering process. This enables a continuous, digital and efficient workflow from planning to production," explains Michael Luu, Head of Engineering Processes E&A at Andritz Metals. "This resulted in thousands of enclosures and boxes for efficient energy distribution and smart plant automation at the production facility that we took into operation at FBA 10," adds Michael Czakert, Vice President Global Metals Automation at Andritz Metals.
The success story continues
The fully equipped system enclosures have now already been in operation in FBA 10 since mid-2022, ensuring in various ways that the plant runs smoothly. They thus represent yet another of many dozens of successful examples of the effective and proven cooperation between thyssenkrupp Steel, Stahlo, Rittal and Andritz. Axel Pohl: "This cooperation between the four companies demonstrates how the process steps in our joint projects are always enriched with expertise and knowledge. In this way, intelligent, innovative and, in the future, increasingly sustainable products and solutions will ultimately be created."