Recycling of tinplate: Three facts you should know
The top performer when it comes to sustainability
Sustainability has become a major trend and, as a result, electromobility, veganism, and the energy transition are now topics that we encounter every day. Sustainable packaging is also in the spotlight, even though an environmentally friendly way of packaging has been used in basically every household for decades.
Be it ravioli to ease that food craving on the weekend, spray whipped cream for a birthday cake, or dog food for the family's four-legged member: The tinplate can is incredibly sustainable and environmentally friendly as a packaging material – and for simple reasons.
Packaging steel is magnetic
Once cans have been collected for recycling, steel packaging is separated from the rest of the waste in the sorting plant by a machine-assisted magnet. This procedure is especially efficient because it is very fast and very simple. The cans thus collected are then bundled and recycled into quality scrap, which is why tinplate is a sustainable alternative to plastic.
Tinplate can be recycled indefinitely
Pre-processed tinplate represent high-quality steel scrap that is recycled in steelworks, and the resulting steel is of consistent high quality. The proportion of a can that can be recycled more or less corresponds to the amount of tinplate in the packaging.
95% of tinplate packaging can be recycled
Enough tinplate packaging scrap was collected in 2017 through recycling to build 375 offshore wind turbines. This is owing to the fact that tinplate packaging is recycled in high volumes in Germany. The degree of recycability is 95 percent. The Packaging Steel business unit at thyssenkrupp Steel is very proud of this fact. However, more needs to be done here for the sake of the environment: Materials as well as the labels on the cans must be cleanly removed and recycled. Tinplate cans belong in the recycling bin or bag, as does light packaging made from metal, composite materials, and plastic. Paper and cardboard need to be put in the paper recycling container. Bottles and container glass must be sorted by color and deposited into the appropriate bottle bank. Residual waste and organic waste have their own containers.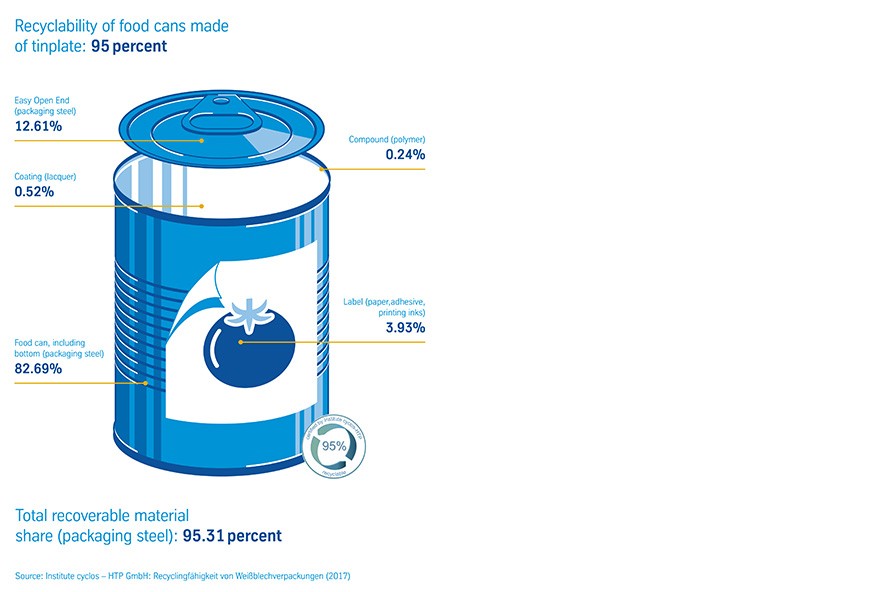 Tinplate Circuit
Our materials cycle – a guaranteed closed loop. Many everyday products are made of tinplate. The advantage: They're magnetic and therefore easy to sort out during garbage separation. This material is then reprocessed into new products at our factories – to be renewed again and again.