Daily press, Trade press, 2016-12-05, 11:53 am
Digital traffic management: New control system navigates trucks to thyssenkrupp's site in Duisburg and calculates time of arrival at loading points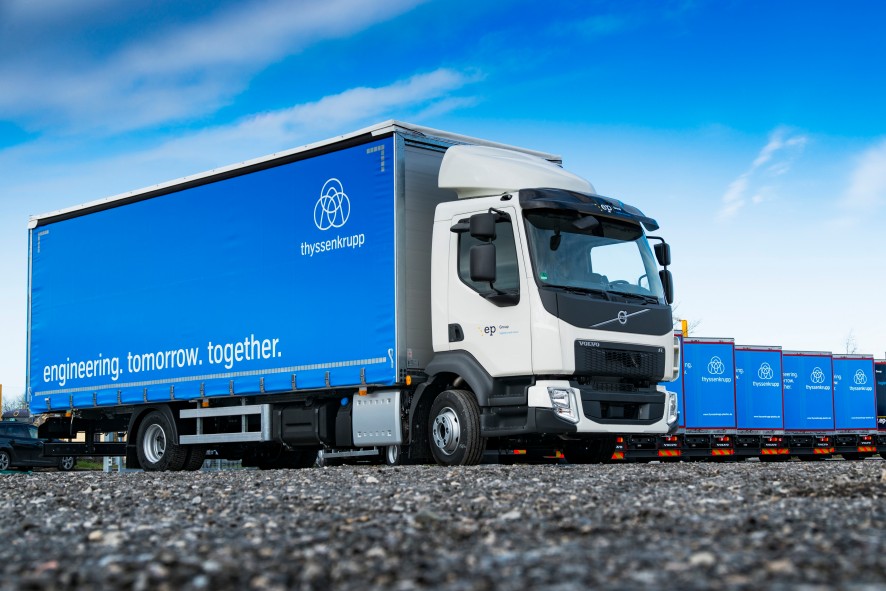 In the last 30 years the amount of car and truck traffic at the gates of thyssenkrupp's steel mill in northern Duisburg has multiplied to almost 120,000 arrivals and departures a week. The company's steel division expects a further 20 percent increase by 2025. For example, more than a million metric tons of granulated blast furnace slag is transported away by truck for further processing every year. There are 600 loading points on the plant site which are used regularly, and some 60 partner companies use the road network. In addition, the roads around the plant can be extremely congested, caused by a decaying infrastructure, e.g. many of the bridges in North Rhine-Westphalia. "To meet these challenges we are turning to advanced digital solutions that are now being implemented on a step-by-step basis," says Ulrike Höffken, head of logistics at thyssenkrupp Steel Europe AG. "This will significantly improve the situation for carriers and truck drivers and ease the traffic situation in the vicinity of our site. We are taking the way we organize goods flows to the next level, you could call it Logistics 4.0."
What is the quickest route to the plant? How can truck drivers find their way around the extensive site in the north of Duisburg? How does a loading point know when the delivery will really arrive? Answers to these questions have now been found – using digital technology. Central elements include navigation around the thyssenkrupp site and a trucker app, which will be available sometime next year.
The almost ten square kilometer site has 70 kilometers of roads, which can be confusing for many users. Non-locals frequently lose their way and cannot find their loading point or the exits. To remedy this, thyssenkrupp's steel division is working with HERE, a developer and provider of cloud-based map services backed by a consortium of leading car manufacturers. Maps and services from HERE are used in a large number of satellite navigation (satnav) systems. The site of the Duisburg steel mill has now been digitally scanned, and the geographical data will be available for use shortly. Partner companies, external service providers and employees will then be able to key the facility or loading point they are looking for into their satnav system and reach their destination more easily.
The reference points on the navigation map are also part of the new traffic control system from Siemens. In the future, when truck drivers announce a delivery, e.g. via the trucker app, they will receive a suggested route online. This will take account of traffic holdups, roadworks etc. and keep them away from residential areas. The system communicates with drivers and enables them to respond flexibly to changes. It also allows transport flows to the plant to be controlled. Overall this is expected to make things much easier for truck drivers while reducing congestion in the surrounding area.
The traffic control system will also assist with the loading and unloading of trucks. The steel division of thyssenkrupp already provides time slots for carriers or at many loading stations time corridors of 1.5 to 3.5 hours. Several trucks are scheduled during this period and loaded on a first come, first served basis. Despite this service, there were still problems, caused e.g. by traffic holdups, that disrupted procedures and caused deadlines to be missed. The thyssenkrupp employees at the loading points often did not know whether and when a delivery would be arriving. In the future a track & trace tool will provide greater flexibility in managing the time slots. Based on the calculated arrival times, the logistics system can change loading sequences or switch to a different time slot. Information on changes to the loading point, for example, is sent to truck drivers with the navigation route. GPS data provide a constant flow of information on the current location of trucks and update the estimated time of arrival continuously, making the system highly flexible.