Daily press, Trade press, 2015-08-05, 03:08 pm
Heart surgery: New turbine installed in Duisburg-Ruhrort power plant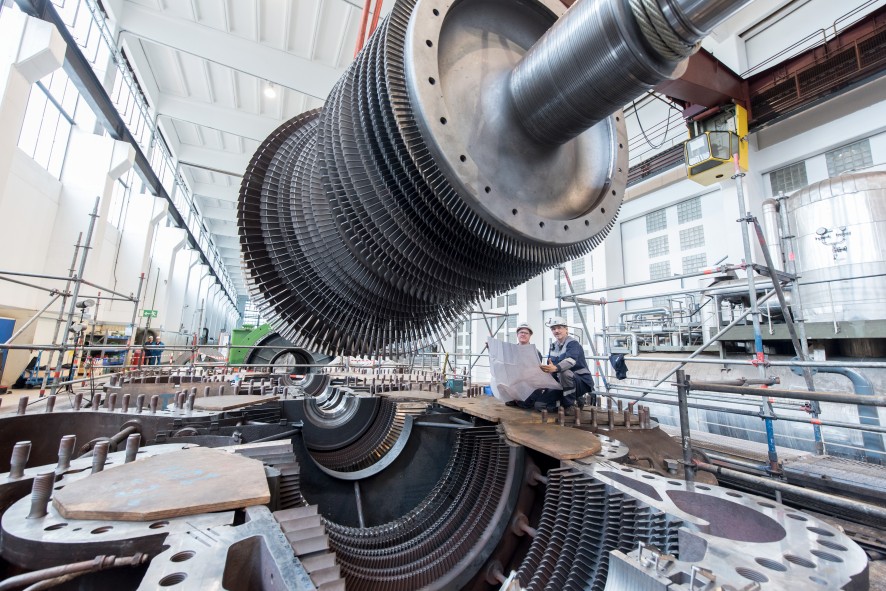 Hundreds of small, shiny blades are arranged in rings on a disk; several such disks of different sizes are mounted one behind the other on an axle. This so-called rotor assembly is the heart of a turbine, such as those used in ThyssenKrupp Steel Europe's power plant complex. There they convert process gases from steel production into electricity in an eco-friendly way, which the company then uses efficiently to meet its high energy requirements. It's very rare to have the opportunity to see such a turbine and all its parts from the inside. Refurbishment of power plant turbine sets generally only takes place every ten to 15 years, as was recently the case with Unit 3 of the Duisburg-Ruhrort power plant.
The biggest part fitted during the maintenance work was a new 170 ton transformer, which had to be brought to the installation site using special transporters and cranes. Refurbishment work started several months ago. "At times there were more than 100 contractor specialists and ThyssenKrupp employees on site," says Dr. Johannes Hermsen from the project team at ThyssenKrupp Steel Europe. Work on turbine 3 included replacing the main steam line after more than 250,000 operating hours and upgrading the control technology. In addition the complete turbine set was exposed to allow the rotors and casing to be removed and 22 rows of blades replaced. "It was a bit like performing surgery on the heart of a power plant," says Dr. Hermsen. With the work completed, the unit will soon be back producing electricity and heat.
Unit 3, which first went into operation in 1963, has an output of 100 megawatts. During refurbishment, the site's energy supplies were secured by the other power plant units. ThyssenKrupp Steel Europe has one three-unit power plant in Ruhrort – the "Hermann Wenzel" plant – and another in Hamborn also with three units, one of which belongs to utility RWE and is leased by ThyssenKrupp Steel Europe. The total average power output of 560 megawatts covers the steel mill's own energy requirements. By way of comparison, the city of Duisburg consumes around 250 megawatts per hour.