Trade press, Daily press, 2018-06-19, 10:46 am
High-tech material for energy efficiency: Electrical steel from thyssenkrupp is key to the success of the transition to renewables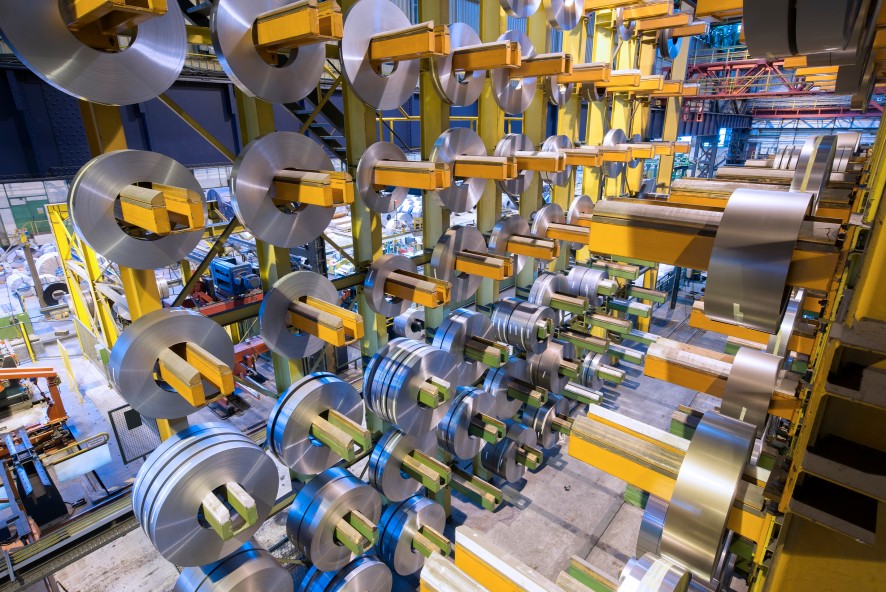 The range and charging of electric cars, the use of renewable energy sources and the resource-friendly distribution of electricity – the success of the transition to renewables depends on issues such as these. Fluctuating demand for electricity already needs to be managed and balanced to keep the grid stable. Increasing use of renewable energies will make this task even more complex in the future. To meet these challenges, thyssenkrupp offers a broad selection of electrical steel grades. These iron-silicon alloys are employed wherever energy is to be generated, transformed and used efficiently. At Coilwinding, the international Coil Winding, Electric Motor & Transformer Manufacturing exhibition being staged in Berlin from June 19 to 21, thyssenkrupp will be displaying applications for this key material for the energy transition with exhibits such as a charging point for electric cars and a stator. New this year is a virtual reality application that allows users to experience the properties and advantages of thyssenkrupp's products digitally in a virtual environment.
Special steels for efficient generators
Electrical steel is advancing the energy transition in many areas, starting with energy generation: Wind and hydropower need generators to convert motion into electricity. Electrical steel such as powercore® from thyssenkrupp is the efficient solution, ensuring that mechanical rotational energy is transformed into electrical power with low losses. This special steel combines and strengthens the magnetic flux: "In wind turbines and hydroelectric plants, the efficiency of the generators depends to a large extent on the material properties of the electrical steel," says André Matusczyk, CEO of the Automotive business unit at thyssenkrupp Steel Europe.
Intelligent distribution networks for low-loss distribution
To be able to transport electricity over large distances it needs a higher voltage than it has when it is generated. The voltage for transportation is around a thousand times higher than in domestic wall sockets. To be able to use the electricity in households and industry, the voltage needs to be reduced again. The powercore® grain-oriented electrical steel required for this is therefore used in distribution and power transformers. A particular challenge for thyssenkrupp Electrical Steel is meeting the EU's Ecodesign directive, under which requirements for the efficiency of transformers are being gradually tightened to allow energy to be transported with even lower losses. The loss rate in Germany alone is currently two to three percent. "In the future more differentiated electrical steel grades will be needed for this. We are already well positioned with regard to these premium grades, and are participating in these developments with our special high-grade grain-oriented electrical steel products," says Dr. Overrath, CEO of thyssenkrupp Electrical Steel. Over the past 20 years the company – a business unit of thyssenkrupp's steel division – has already improved the energy efficiency of electrical steel by almost 40 percent – and there is more to come.
Power grids to be supplemented by data networks
When it comes to e-mobility, issues such as vehicle range and the availability of charging stations play a very important role. The more charging stations are needed, the more feed-in points and distribution transformers will be required. "If the number of electricity users rises, distribution capacity will have to be increased. It doesn't matter what the electricity is used for," says Dr. Overrath. As e-mobility gains in popularity, the distribution networks in Germany and Europe will have to be expanded. "The transition to renewables and intelligent energy distribution go hand in hand." That calls for intelligent distribution networks, so-called smart grids. Fluctuating demand for electricity already needs to be managed and balanced. With increasing use of renewable energies, which are not continuously available, this task will become more complex in the future. A data network will therefore operate in parallel to the power grid to coordinate the generation, storage and distribution of energy with the help of new transformer concepts. "The demand is there," says Dr. Overrath. "We can already supply the grain-oriented electrical steel needed for these smart transformers."
Basic material for e-mobility
Steel in the form of efficient electrical steel is an indispensable element of e-mobility, both now and in the future. "Without steel there can be no e-mobility. Electrical steel is a vital component of electric motors," says Matusczyk. Electric motors have huge potential, but the challenges involved are equally huge, such as the need for high speeds, increased torques, energy efficiency, low packaging space and resource conservation. For this reason thyssenkrupp supplies electrical steel grades that minimize losses from high-speed electric motors. The magnetic properties of the hightech material make the motors more efficient and thus increase the range of electric cars. "And that is a key aspect in gaining acceptance for electric cars," says Matusczyk. thyssenkrupp tests most of its newly developed electrical steel grades on a motor test rig at the E-Mobility Center Drives in Bochum.
Materials technology meets virtual reality, customer app and e-commerce
Customers and specialists visiting the thyssenkrupp booth will be able to put on a VR headset and immerse themselves in an interactive, computer-generated world in which they can experience and control various aspects of thyssenkrupp's technology in real time in a virtual environment. Also available on the booth will be the newly designed multi-touch app "High-efficiency electrical steel – basic material for the transition to renewables". Customers can look at the various electrical steel grades and their uses, for example in wind farms, learn more about their properties and find the product they need more quickly. Steel Online, thyssenkrupp's digital e-commerce-portal, will show customers how they can order materials online.
Visit thyssenkrupp at booth A29 in hall 2.2. at the international Coilwinding exhibition (June 19 – 21, 2018) at Berliner Messe.
https://www.coilwindingexpo.com/