Trade press, 2014-05-27, 11:52 am
Customers save time and money – thanks to a unique test and simulation facility in Dortmund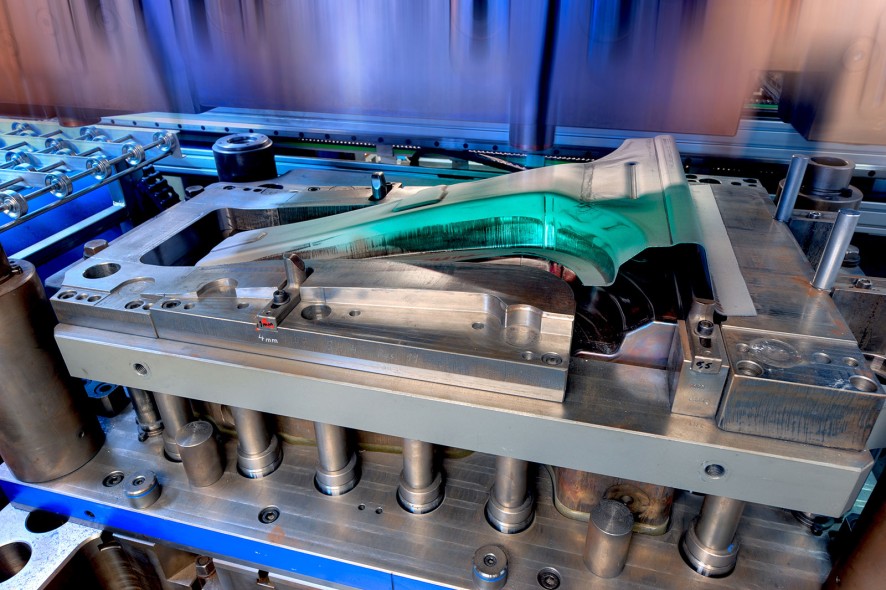 Hot forming has emerged as a ground-breaking technology in the automotive industry. It is ideal for manufacturing complex, high-strength, crash-resistant parts that are lighter than conventional steel solutions. But to utilize these properties efficiently and reliably in volume production, precise understanding of the parameters of this relatively new process is essential.
Reduce development costs by up to 20 percent
ThyssenKrupp Steel Europe has a combined test and simulation facility to offer automotive suppliers and manufacturers production-ready parts and processes, allowing prototypes or production tooling to be manufactured without major additional cost. "We can simulate the hot forming process exactly," explains Dr. Julia Mura from Sales Automotive. "We save our customers valuable time and money because they don't have to halt their production lines to carry out lots of test runs. We provide them with the parameters." ThyssenKrupp Steel Europe offers its services as a development partner for new materials and process technologies. "Our Technology & Innovation unit can't replace test runs in the press shop completely, but it can decrease their number significantly," explains Mura. "This way our customers can reduce their development costs by up to 20 percent."
The test facility may be much smaller than those in large production operations, but the forces at work are the same. "We operate a range of furnaces at temperatures up to 1,250 degrees Celsius, as well as various presses and cooling systems. But we are significantly more flexible and can carry out tests faster and completely in line with customer requirements," explains Sascha Sikora, the man in charge of the facility at ThyssenKrupp Steel Europe. Customers receive exact process parameters and can predict precisely how the sheet with the required properties will perform in their own hot forming process.
Interplay between theory and practice
The developers combine the test facility with FEM simulation. The simulation is based on elongation and thermographic data captured by special cameras. The test facility thus acts as a corrective to the simulation and vice versa. This interplay between theory and practice rapidly leads to valid results.
ThyssenKrupp Steel Europe has been carrying out these hot forming simulations for seven years and has acquired a large amount of data. Customers can profit from these empirical data when it comes to optimizing existing parts or processes. Synergies within the ThyssenKrupp Group can also help manufacturers in the development of new parts. "We work closely with ThyssenKrupp System Engineering," says Sikora. "We provide our development expertise and they supply the matching tooling or even the complete production line."