Trade press, 2018-08-06, 05:00 pm
rasselstein® Express – the new service promise for packaging steel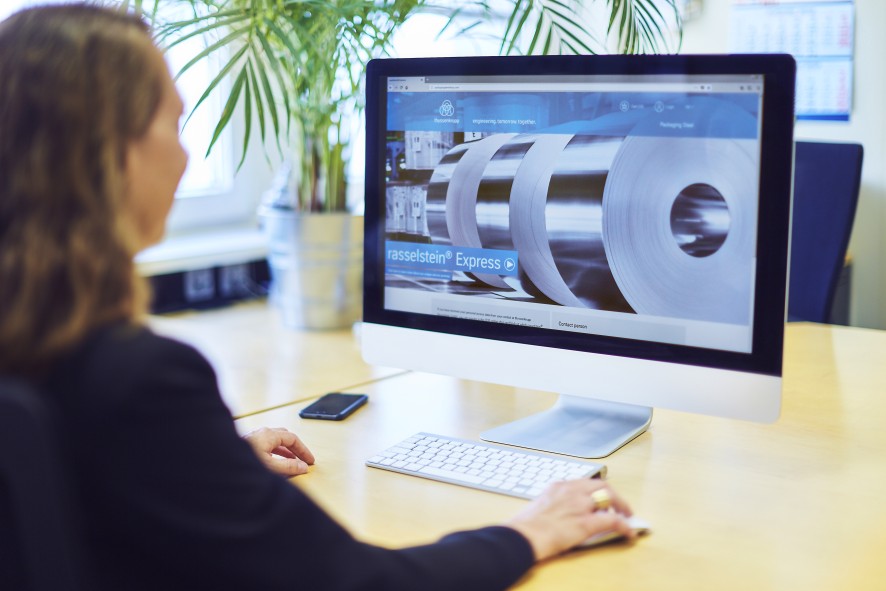 Only 16 days from ordering until the selected packaging steel is ready for shipping – this is the promise of the new thyssenkrupp Rasselstein GmbH online shop which went live today. Material from a selection of specifications are available for order. The online shop www.packagingsteelshop.com of the German packaging steel manufacturer, which is geared exclusively towards B2B customers, thus makes an offer to its business partners, which is unparalleled in the industry.
With rasselstein® Express, existing customers can meet their short-term requirements of additional quantities in an easy and uncomplicated way using the online shop. This could be the case if they need to spontaneously expand their production – e.g. due to the weather or the harvest.
How does the online shop work? The customers receive their personal login data from their contact person at thyssenkrupp in Andernach. The login data can be used to log into the online shop and to find out which material numbers and dimensions of rasselstein® Express are available and in what quantities. Once the customers have found their required specification, they only need to initiate the ordering process in the online shop and wait for a confirmation by their sales contact. For the reduced delivery time service, the customer pays a certain surcharge.
"With our online shop and rasselstein® Express, we are breaking completely new ground which is unique in the packaging steel industry," says Dr. Peter Biele, CEO of thyssenkrupp Rasselstein GmbH. "In the online shop, our customers can quickly meet their short-term requirements of additional quantities with just a few clicks. rasselstein® Express gives the customers a comforting feeling that additionally needed quantities can be handled flexibly and in a timely manner. A real benefit for all Rasselstein customers and for the downstream value chain."
The decision to create this innovative online shop is based on numerous discussions with customers. "We followed the request for lower delivery times when having to meet an additional short-term requirement. For the launch, we are offering selected specifications in our online shop and will gradually expand our range. Considering ourselves a partner to our customers, we are happy to have created this innovative opportunity," concludes Dr. Biele.
About us:
thyssenkrupp produces approximately 1.5 million tonnes of packaging steel each year in Andernach, Rhineland-Palatinate, Germany. At the largest site of its type in the world, thyssenkrupp rolls steel to a thickness of 0.100 millimeters and finishes the surface with tin or chrome. Nearly all of the steel produced is shipped to packaging manufacturers around the world. Alongside cans for food and pet food, packaging steel is also used, for example, for beverage and aerosol cans, containers for chemical and technical filling goods, as well as for crown corks and twist-off tops. thyssenkrupp has around 2,400 employees in Andernach.