Trade press, 2015-01-19, 11:25 am
Stylish standing seam roofing made from flat carbon steel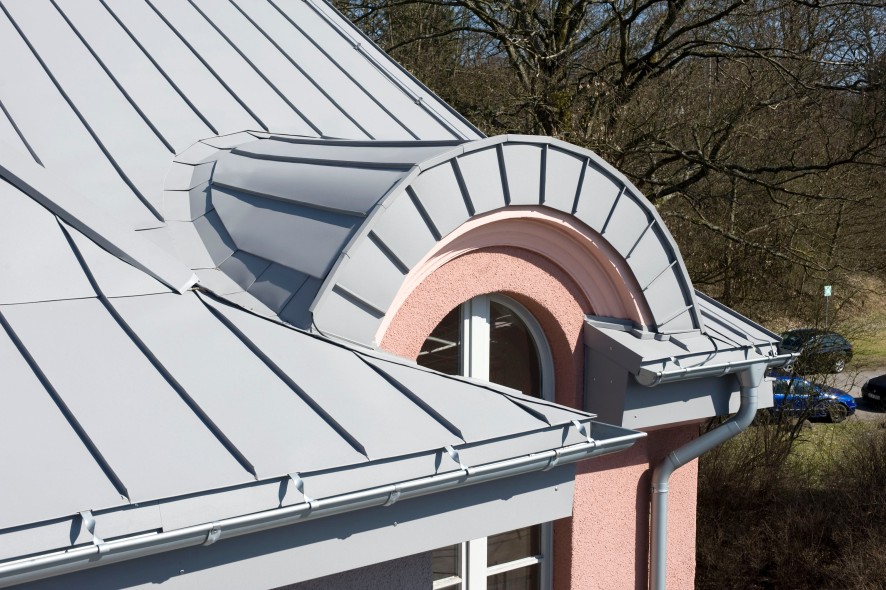 Stylish standing seam roofing made from flat carbon steel
Standing seam roofs give buildings that certain something – especially when they are made from PLADUR® StandingSeam, a new steel product that combines an attractive matt appearance with excellent formability and low cost compared with other materials. ThyssenKrupp Steel Europe will be presenting a roof made from this weather-resistant steel at the Bau 2015 trade show in Munich from January 19 to 24, 2015, (hall B2, booth 303).
The technique goes back a long way: Standing seam roofs have been lending an elegant touch to both private and industrial buildings for around 200 years, and they continue to play an important part in modern-day architecture. ThyssenKrupp Steel Europe now offers a new solution for fully supported roofing and cladding: PLADUR® StandingSeam, an organic-coated carbon steel product available in a matt and textured finish. The innovation was developed at the company's Kreuztal-Eichen site in collaboration with firms that manufacture and install standing seam roofs themselves.
Low cost, durable and readily formable
To date, standing seam roofs have mainly been made from copper or titanium zinc. PLADUR® StandingSeam offers significant advantages over these materials: "For one, the product has a very stylish appearance: StandingSeam has an attractive matt textured finish and is available in two colors – Falzgrau® (gray) and Falzanthrazit® (anthracite)," says Axel Pohl, who among other things is in charge of sales of all coil-coated products in the Group. The material's processing properties are a further benefit: The coated carbon steel can be formed readily on site using conventional seaming tools. Even complex details can be produced at material temperatures down to minus five degree Celsius. Once the material has been installed on the roof, its low coefficient of thermal expansion means the steel remains virtually stress-free even in extreme heat or cold. And last but not least the new product saves customers money: PLADUR® StandingSeam costs less than solutions using other materials.
Weather-resistant thanks to ZM EcoProtect coating
To provide the standing seam roofs with reliable and lasting corrosion protection, ThyssenKrupp Steel Europe coats the steel substrate with the zinc-magnesium alloy ZM EcoProtect: For PLADUR® StandingSeam, this special alloy coating has a weight of 160 grams per square meter to ensure maximum corrosion protection.
Distribution network for Germany
Several reference projects using this innovative steel have been realized in a very short space of time, including standing seam roofs on various buildings at the ThyssenKrupp Steel Europe site in Kreuztal-Eichen. "We have already built up a distribution network for Germany in collaboration with our partner Fischer Stahl," says Pohl. "Our partner supplies customers with tailored solutions, and we complement this with technical support and architectural advice." ThyssenKrupp Steel Europe will be exhibiting a roof made from the new material at Bau 2015 in Munich from January 19 to 24, 2015 (hall B2, booth 303).