Daily press, 2018-02-21, 11:13 am
The material loop for packaging steel works - top figure for material utilization achieved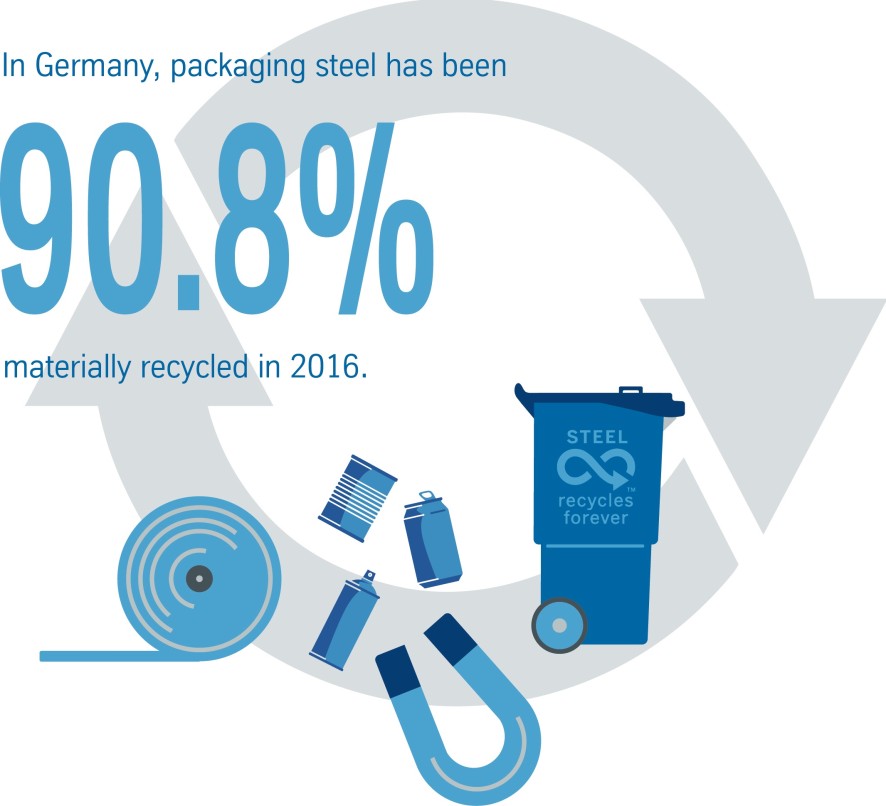 91 percent of used tinplate packaging was materially recycled in Germany in 2016. Packaging steel thus once again performed significantly better than all other packaging materials. This finding was published by the gvm (Gesellschaft für Verpackungsmarktforschung GmbH) in their annual "Recycling Balance Sheet for Packaging".
Closed material loop
"Used tinplate packaging is collected, sorted, bundled, prepared and used in the form of quality scrap for high-quality recycling within a closed material loop," according to Christian Pürschel, Head of Communications and Market Development at thyssenkrupp in Andernach. "The fact that the overall recycling rate corresponds here 100 percent to the material utilization is not surprising because steel does not burn and can always be materially recycled. This offers significant benefits for the environment and contributes to the preservation of valuable resources."
Every steelwork uses scrap steel for producing crude steel. The result is steel whose material properties remain good no matter how many times it is recycled. "In contrast, other materials need to pass through one or more recycling cycles before they still need to be disposed of at some stage after all," explains Pürschel. Due to the loss-free recyclability of used steel in steel production, the recycled quantities replace primary raw materials such as iron ore, coking coal and additives. In addition, this process reduces CO2 emissions.
One of the reasons for the consistently high recycling performance in Germany is the extensive commitment of thyssenkrupp to closing the material loop. With the foundation of the DWR (Deutsche Gesellschaft für Weißblechrecycling mbH) and its considerable involvement in the non-profit company KBS Kreislaufsystem Blechverpackungen Stahl GmbH, thyssenkrupp has actively contributed to the recycling both of privately-consumed steel packaging and also commercially-produced quantities for many decades and ensured that it is fed back into steel production in a professional and targeted manner.
About us:
thyssenkrupp produces approximately 1.5 million tonnes of packaging steel each year in Andernach, Rhineland-Palatinate, Germany. At the largest site of its type in the world, thyssenkrupp rolls steel to a thickness of 0.100 millimeters and finishes the surface with tin or chrome. Nearly all of steel produced is shipped to packaging manufacturers around the world. Alongside cans for food and pet food, packaging steel is also used, for example, for beverage and aerosol cans, containers for chemical and technical filling materials, as well as for crown corks and twist-off tops. thyssenkrupp has around 2,400 employees in Andernach.